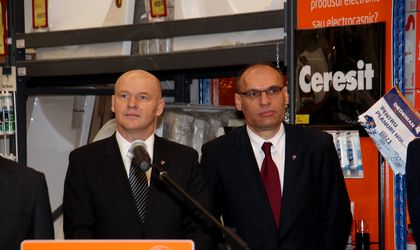 The founders of DIY chain Dedeman, Paval brothers, and the owner of Mobexpert, Dan Sucu, are among the founders of a new investment and management platform that aims to support financially distressed Romanian companies.
Aside from the Romanian entrepreneurs, the platform called ROCA has as associates CITR Group, through its investment division CIT Resources and Astra Rail Management GMBH. The Paval brothers joined ROCA through PIF Industrial.
Funding through ROCA will target companies, which face financial difficulties, but offer products and services in a growth market, have the capacity to generate operational profit and offer a favorable framework for digitalization and exports.
ROCA will have an initial capital of EUR 4.5 million and CITR Group, which manages it, estimates that the funding through the platform will reach EUR 20 million by 2019. By the end of this year, the platform aims to have investments in five companies. ROCA already has the first company in its portfolio – S-Karp, the Brasov-based producer of shoes.
"I think that collaboration what will truly change things, the cooperation between us, entrepreneurs, who have a certain expertize in our area of business, either available financial resources, or competences for restructuring, either through discovering the values inside the companies that need support. This is why I joined the CITR Group initiative," said Dragos Paval, investor in ROCA.
Sucu of Mobexpert added that it is for the first time that he invests in a business he doesn't own, but he believes in the success of this platform.
The board of investment decides the projects in which the platform will get involved. The maximum financing amount stands at EUR 2 million per project. ROCA will take at least 60 percent of the share capital in the company in which it invests and the entrepreneur has the option to enact from the start a share buyback mechanism.
The restructuring cycle of companies within ROCA include the attraction of financial resources for a duration of 7 (+1) years, aiming for an Internal Return Rate (IRR) of at least 16 percent. Two investment cycles are planned for completion in this phase, with a profit taking at the half of the period and the rest at the end.