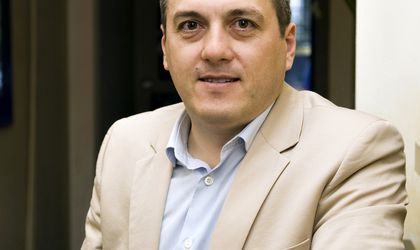 Entrepreneurs in South-Eastern Europe often have to fight against the stigma of failure, which can deter them from starting a new business, Lyuben Belov, managing partner of the seed and acceleration fund LAUNCHub, told BR during How to Web. The good news is that it is a little easier to get financing these days.
By Otilia Haraga
Do you share the view that entrepreneurs should not fear failure?
Of course. I am 100 percent in agreement. This is the frightening stigma that we have here in our part of the world – we punish and blame entrepreneurs for failure. We punish them through legislation, making it much more difficult for them to found another company. But there are two ways in which you can fail: you can either have a failed venture and close the company, or you can have plenty of failures within a successful business. The path to success is full of failure. You fail to close a deal with a client, or to start a partnership or to launch a product at the right time or to launch the right product. So, there is failure all the way up. The moment we call failure by this name, it is a failure of ours.
What do you take into consideration when deciding whether to invest in a business?
I have a very straightforward answer: incomes first. The companies that we finance have the most brilliant ideas. What we try to see is that the team has complementary skills and is dedicated to the business and capable of thinking and listening to feedback.
Other things matter as well, such as what kind of business it is, the market, the competition and the traction. There are plenty of things we would like to see; however, the income is the most important thing.
Innovation is not necessarily something that has not been seen before: it can be a different approach to developing a product. We are not slaves to innovation.
What are the maximum and minimum sums you inject in a business?
We are supposed to invest no more than EUR 200,000. However, we try to organize a network of co-investors, so that they can invest with us. Over the last three months, we have invested EUR 1.2 million through the fund, but we have managed to organize co-investors putting in an additional EUR 600,000. So we have companies that are getting funding of approximately EUR 400,000 to EUR 500,000.
The minimum sum that we invest is EUR 30,000 for 8 to 10 percent of the equity in companies that are at entry level. For the larger ticket of EUR 200,000, we do not have a specific percentage; it depends on how mature the company is and the valuation, what the traction is.
What we try to bring to the table is help with advice, connections and our experience. They have a long way to go, and we try to teach them what to do, what happens usually and what they should be prepared for. We are door openers.
At what rate do the businesses you finance go bust?
We would love it if half of the companies survived. At such an early stage, from time to time you may see an even lower survival rate. We can see the accelerator as part of the show, but what we are looking for is where to place the big ticket, the EUR 200,000 into companies that have a bit more traction. So we prefer companies that can absorb more money, for instance EUR 200,000 from us and EUR 200,000 from additional investors. They don't have to be companies that have been on the market long. We have start-ups that we have put such money into, where we have invested more aggressively. We have made 14 investments so far.
One of our companies is today pitching in front of investors at the University of Berkeley California. They won the Intel Challenge Europe, being one of the six European companies that were invited. They do this very smart image recognition software.
As for the two Croatian companies, one of them is making a social network plus a mobile app, which improves the movie experience. You can check the movie out, watch the trailer, buy a ticket and so on. The other one is called Habits, and the company is trying to cross education and entertainment for pre-school kids, helping parents to encourage healthy habits in them.
When do you generally make an exit from a business you have invested in?
The lifespan of the partnership is ten years. However, we usually make an exit within five to seven years, which is pretty good. We are not pushing the founders for an exit, we just help them grow and the moment we stop creating value there, we exit and someone else jumps on board.
What are the financing options in Bulgaria for a start-up?
I remember when I set up my most successful company, Net Info, which we sold in 2008 for USD 45 million, I and my co-founder put in USD 15,000 each. In my opinion, the most important thing is that the entrepreneur should be passionate and ready to take a risk because it is a venture. Entrepreneurs should get help from whomever – whether it is people who can help them with the product or a loan. It is a bit easier these days because there is a shortcut, namely seed funds, which are more or less institutionalized, and there is democratization there.
There are three ways to finance a startup – you can bootstrap it on your own and get some early revenue but the moment you do this, capital is going to be poured in easily. Or you can go to some kind of accelerator, a seed fund like LAUNCHub, or try to find financing through the three F (friends, family and fools). But we, the accelerators, are also the fools.
Would you provide financing to a Romanian business?
We would love to. Actually, we had plenty of applications from Romania last time, but unfortunately we did not manage to invest in a Romanian business. We have financed nine companies; two are from Croatia and the rest are Bulgarian.
Lyuben Belov is one of the pioneers of the internet sector in Bulgaria, who recently co-founded LAUNCHub, an EUR 9 million fund, which invests in startup companies in the ICT sector in the SEE region. In 1998, Belov co-founded Net Info, the top digital brand in Bulgaria, and served as the company's CEO until 2007. He sold Net Info in 2008 to Sanoma Magazines International, in the highest valuation transaction achieved in this sector in Bulgaria. After exiting Net Info, he invested in and developed digital businesses within the SEE region.