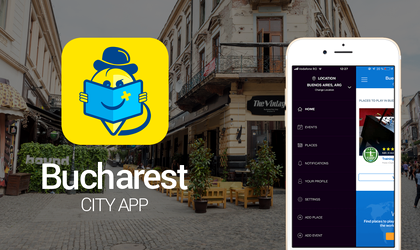 Orange, the largest telecom operator in Romania, purchased the Bucharest City App, a free of charge application with over 80,000 users, according to a Ziarul Financiar article.
Bucharest City App started as an all-in-one leisure time application for locals, expats and tourists alike. It was developed by Romanian entrepreneur Alexandru Filip and Dragos Astafei, the official photographer of the Romanian President, as a city guide for both locals and tourists or expats. The value of the transaction between Orange and the app's creators has not been disclosed as of yet.
"The opportunity to sell our application to Orange appeared thanks to our partners from Eventya, a Sibiu company we worked with in developing the app, the company being responsible for several city apps in Romania and abroad. Eventya is one of the businesses which make up Orange Fab Romania, an acceleration program conceived to support developing entrepreneurs in the innovative products sector, and the distribution of their products on the local and international markets." Says Alexandru Filip.
Currently, the app is used by over 81,500 users, of which over 80% are on Android smartphones.