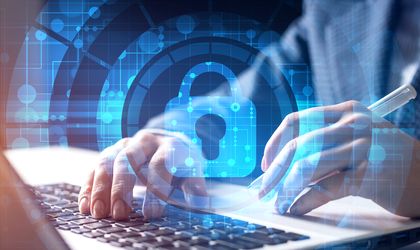 With global security spending set to reach USD 123 billion this year, innovative startups have the potential to scale up quickly and provide solutions that can be used by companies of all sizes. As remote work has become the new normal, companies have had to deal with a growing number of challenges related to data security and cyber risks.
By Ovidiu Posirca
The Romanian startup ecosystem has been growing in the past few years and some entrepreneurs are starting to secure capital from foreign funds for faster development.
Funding for cybersecurity startups is set to reach USD 4.5 billion this year, up 11 percent year-on-year, according to CB Insights.
"We've seen an increasing number of innovative cybersecurity startups emerging in Romania, including some with whom we've been involved at ROCA X. With companies of all sizes becoming increasingly concerned about security, particularly data breaches, demand has grown rapidly. However, adopting any cybersecurity solution involves a serious consideration process for any company. Romanian startups often struggle with managing lengthy sales processes. Since Romanian enterprises tend to lag on digital strategy, selling in Romania can be especially challenging," Jennifer Austin, senior investment partner at early stage startup investment fund ROCA X, told BR.
"On the other hand, we've seen several promising cybersecurity startups going global from day one, completely skipping Romania as a target market. Finally, even as we see higher technological sophistication, leveraging artificial intelligence and machine learning, the growing market demand for cybersecurity from SMEs demands that startups reduce complexity for users and make security more accessible and easy to manage," she adds.
Cybersecurity spending will continue to grow, being forecast to reach over USD 248 billion by 2023, according to MarketsandMarkets.
"You know that curve of exponential growth we keep seeing for how coronavirus will spread — the same curve goes for cyber risks," said Camille Charaudeau, vice president of product strategy at Paris-based CybelAngel, quoted by sifted.eu.
Specialists say the market is fragmented, so there are numerous opportunities for providers of all sizes and startups have the potential to grow fast. The technology is powerful enough to provide the same level of cybersecurity regardless of whether employees are at their office desks or working remotely.
The field is ripe for innovation and dynamic startups can come up with new products or services that can efficiently improve the digital safety of a growing community of remote workers.
"While adjusting investment processes to a remote work environment, capital in cybersecurity is both available and being deployed. This points to resilience in the cybersecurity investment landscape in the face of economic headwinds," according to a DataTribe report. Investments in cybersecurity are needed to ensure the continuity of business and consumer protection.
Local startups have room to grow
A handful of Romanian startups have raised additional funding this year despite the challenges posed by the health crisis.
For instance, SecurifAI, a startup developing AI video analysis solutions for surveillance or monitoring cameras, got EUR 225,000 through SeedBlink, a local equity crowdfunding platform. The company's tools can detect unusual events, while also recognising a person's face and facial expressions. This comes in handy for the security of commercial spaces or for marketing-related activities in stores.
Cyscale, a developer of cloud-based data security solutions, tapped SeedBlink investors and secured EUR 350,000. Its service can be integrated into major cloud platforms and can warn users of any vulnerabilities or data loss risks. Elsewhere, TypingDNA got EUR 6.2 million in a Series A funding from Gapminder, Gradient Ventures (Google's AI venture fund), and Techstars Ventures. The startup offers an authentication technology called typing biometrics based on how a person uses a keyboard, replacing the traditional password system.
An EUR 800,000 seed funding round was secured by CODA Intelligence, a startup developing a cybersecurity platform for small and medium-sized enterprises. Its solution draws up a company's dynamic security footprint based on its daily data flows. The startup was backed by Early Game Ventures, ROCA X, and angel investor Marius Alexe for this funding stage.
Cyber unicorns
In the past year, several cybersecurity startups have secured funding that has propelled their valuations above USD 1 billion, thus enabling them to join the so-called "unicorn club". Kaseya, whose platform monitors and manages companies' IT infrastructures while securing their assets with automated patch management, antivirus, and antimalware offerings, reached a valuation of USD 2 billion at the end of 2019. Startup KnowBe4 expects its valuation to double to over USD 2 billion if its plans to go public are successful. The firm got USD 300 million in a direct investment from KKR group. Its solution aims to remove threats like phishing, ransomware, and other forms of social engineering that can impact companies in various industries. In short, the startup platform allows a company's security staff to send out tests to employees. This could include harmless phishing attempts that employees would need to report.
Cloud security provider Netskope reached a valuation of nearly USD 3 billion after it got USD 340 million in fresh funding. The startup provides real-time protection against network and data threats on cloud services, websites, and private apps.
Druva is another startup focusing on cloud data protection and management whose valuation topped USD 1 billion. It developed a SaaS solution that helps companies streamline their security operations by removing the need for unnecessary hardware, capacity planning, and software management.
Snyk also joined the unicorn club after receiving USD 150 million in a new funding round. The startup helps software developers identify and patch security vulnerabilities in open source programmes.