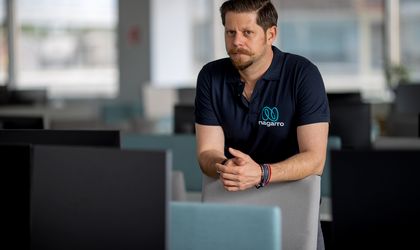 Nagarro, a global leader in digital engineering and technology solutions, and the international software development company based in Romania iQuest have finalized their transition following the merger announced in August this year. Both companies are owned by the German group Allgeier SE.
After the transition period started a few months ago, Nagarro Romania will have mixed teams – employees from both iQuest & Nagarro – working on projects, both in engineering and other areas of the organizations. The new Romanian team will join the global Nagarro pool of talents working for blue-chip customers from automotive, logistics, telecom, retail and other key industries.
"Fortunately, the fact that both organizations were built on similar principles and grew on the basis of a strong set of core values, it was quite easy for us to invite colleagues from both organizations to be part of joint projects and to accept this challenge. In the near future we will have more and more such projects, reaching in the end to operate as one organization", said Voicu Stoiciu, Managing Director of Nagarro in Romania.
Nagarro is a fast-growing, global tech service company domiciled in Germany, with over 8.400 employees across 25 countries. The company serves more than 750 clients worldwide, many of them blue-chip businesses, leaders in their fields: manufacturing, retail, transport and logistics, financial services and other industries. Last year, Nagarro generated 402 million euros in revenue.
A large part of its revenue, more than half, comes from Digital Product Engineering services, but Nagarro also delivers Managed Services (19%), Digital Commerce & Customer Experience (14%) and ERP consulting services (10%). By geographic region, most of Nagarro clients come from Central Europe (41%), mostly Germany and North America (34%).
In Romania, following the merger with iQuest, Nagarro has now approximately 815 employees and has now more than 40 open positions for IT professionals to be hired in the next few months, with different levels of seniority in technologies like Java, .net, hybris, mobile development.
Recently, Nagarro went through a process of changing its visual identity at a global level, the new brand logo was designed by Nagarro Digital Ventures, a business unit of Nagarro located in Silicon Valley, USA. Thus, all iQuest offices in Romania, from Cluj-Napoca, Brașov, Craiova, Sibiu, București, and those in Warsaw, Frankfurt and Zurich will now be rebranded as Nagarro. iQuest has been a benchmark in Romanian IT landscape over the last 20 years and the merger with Nagarro represents a step forward towards a global company with an unique organizational culture.
The merger with iQuest in Romania was not the only fusion, Nagarro bringing under its brand also Objectiva, a company operating in the USA and China, and the SAP business of Allgeier Enterprise Services, from Germany – rebranded from October 1st as Nagarro ES.
The new strategic realignment aims at positioning Nagarro as an innovative, full-service, global leader in software engineering and technology solutions, that will be listed as a separate company. See more details about the spin-off here.