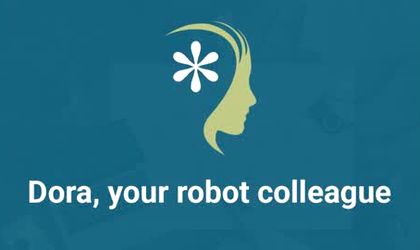 The current Coronavirus crisis has made people worry about health and income, but most of them are expecting to stay in their current job. Only a quarter believe in a rapid return to the pre-crisis situation. Those are the main findings from a survey conducted by Happy Recruiter, with the help of Dora, the recruitment robot.
How do employees feel about their circumstances since the Coronavirus lockdown started? Do they fear for their job? Do they feel that their employer is addressing the crisis appropriately? Does uncertainty make them look forward to new work? These and other questions were put to 36.145 people from Belgium, Romania and the United Kingdom in April 2020 by Dora, the Recruitment Robot of the leading Romanian based social recruiting platform, Happy Recruiter, part of House of HR Group.
Happy Recruiter placed an advertisement on Facebook inviting employees to participate in a short, automated survey. A number of striking answers emerged from that survey.
The survey was conducted on 36.145 people from Belgium, Romania and the United Kingdom in April by Dora, the Recruitment Robot of the leading Romanian based social recruiting platform, Happy Recruiter. It involved employees divided between blue-collar workers (40%) and white-collar workers (60%) in the UK. Nearly 28% are currently active in the Healthcare Industry, 12% in Hospitality sector, 10% retail/ e-commerce, 8% Office work and other 8% in Education, and the rest are spread over other commercial sectors (manufacturing, transport, logistics and more).
In Belgium, the division is: 52.53% are from the Blue Collar sector, whereas the other 48.03% from White Collar job sector. In Romania 60% are from the Blue sector and the other 40% White Collar workers.
Most people are worried about health and income
Health concerns arise primarily among respondents from all three countries in which the survey was conducted, the UK, Belgium and Romania.
In the UK, 44% of workers appear to be concerned about health, and no less than 22% are concerned about their income and of the uncertain future (21%).
We asked employees in Belgium the same question and one of the main concerns in this period is: income, coming in second after health related worries. The unsure future is not a major concern for the Belgium respondents, but one of the biggest worries for the Romanian respondents is the unsure future.
Overall, other concerns are related to access to supplies and social distancing.
2 out of 3 Romanians say that their job is affected by Covid-19. Sectors which have been affected by Covid-19: a quarter were working in the Industry sector when the crisis started, 17,4% in Construction, 10,9% în Retail/ E-Commerce and 10,05% in Transport. Other affected sectors are: Office/Administration, Services, Logistics/ Warehouse and HORECA.
The survey shows Romanians being more optimistic than the Belgian and British people when it comes to a comeback to a 'normal' life
Romanians estimate with optimism that the situation will return to normal a bit more prominent than that of the Belgians. Only 3.51% of all respondents among Romanians estimate that the situation will never return to the 'normal' we know, while 12.91 % of Belgians say that things will never return to normal.
13% of Belgians think life as we're familiar with will never come back, the highest percentage from the three countries,  whilst 31% see a potential comeback in a few months. British respondents are also uncertain about a normal life. 63% believe that the economy might return to normal after the Coronavirus crisis, within a few months.
There is definitely an uncertainty  of what the future will be, regarding all aspects – job, economy, tourism, education and just how much the current changes will affect us in the long term.
In Belgium 2 out of 5 people's jobs affected by Covid-19 are furloughed
37.73% are currently furloughed, 15.66% received salary cuts and 13.89% were left without a job – they were made redundant. People who work from home and those who have an increased workload are 6.36%, respectively 9.83% of respondents.
Most affected by the job furlough measure is Romania, where 43.83% are affected by it. A quarter of Romanians have been fired and nearly 17% got their salaries cut.
Salary cuts and redundancies affected 20% of the overall industries in the UK
Most affected by salary cuts and redundancies measures in the UK are people who are working in transport, manufacturing and construction. Unsurprisingly, some industries have been hit harder than others. In the UK, 3 out of 5 employees in Hospitality have had their jobs furloughed and 1 out of 5 received salary cuts or job redundancies. Only 1 out of 10 said their job was not affected. The job furlough measure is the most common measure taken by employers, nearly a third are affected by it in all industries when taking out medical and health workers.
Coronavirus crisis makes British employees want to hold on to their job
Although the same uncertainty prevails all over the world, the vast majority of British people, 71%, expect to keep their current job, higher than in other countries surveyed by Dora. Figures do vary between industries. More than 45% of the people from Manufacturing industry are now searching for a job. In the Office and Administrative sector 40% are actively looking for a job, and in Construction and Catering & Hospitality – more than a third are in search of a new job. But in other sectors, e.g. Retail, Education and Logistics, the figure is lower.
Conversely in Belgium and Romania, the same study showed that 67% are currently looking for a new job, with well under half the workforce expecting to stay in their current employment.
The reasons for this difference are difficult to ascertain from the results, but may be caused by factors such as a different mix of industries in each survey, the specific furlough arrangements from country to country and variations in employee confidence between countries.
Employee satisfaction on how the employer handled the Covid-19 crisis
British respondents are positive about the way in which their employers are tackling the crisis. Good communication, following the health guidelines, internal organization and compassion in particular ensure this positive evaluation.
More than 3 of 5 Belgian and British respondents are satisfied with how the employer handled the Covid-19 crisis. 69.84% of the Belgian people who answered this questionnaire are satisfied with the way their employers handled this crisis. The main reasons listed for which employers are appreciated by respondents: they appreciated the good communication throughout the period – 35.40%, 27.34% appreciated how organized the employers were, 21.30% noticed concern shown by the employers. Other positives in how they handled the situation were: transparency and the job continuity.
58% of Romanians who answered this questionnaire are satisfied with the way their employers managed this crisis. The main reasons listed for which employers are appreciated by respondents: it is organized – 29.55%, offers continuity – 22.53%, cares about us – 19.77%, communicates well – 16.5%, is transparent – 7.29%.
The reasons given by those who were not satisfied with the way this issue was managed were: dismissal, the fact that their salary was reduced during this period, while others reasoned that the employer showed indifference or did not provide health protection conditions. Other given reasons that led to dissatisfaction: disorganization, poor communication during this period and lack of transparency.
***
Happy Recruiter is the leading Social Media Recruitment Management digital ecosystem giving recruitment teams the tools to successfully target, reach, screen and nurture candidates.
It unlocks the recruitment potential of our most popular social media platforms, by using Dora, the virtual assistant in Facebook, Messenger and Instagram, for the first time to easily build and manage quality talent pools. Dora, Happy Recruiter's own Chatbot, communicates with candidates across social media engaging with them through the early stages of their recruitment journey.
Founded in 2018, the company conducted over 650,000 interviews in its first two years. It works for clients like Accent Jobs, Coca-Cola, McDonalds and others. Happy Recruiter is part of House of HR.