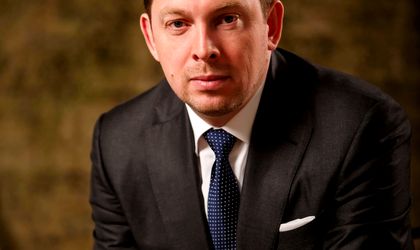 Utility group CEZ is planning to expand its electric car charging station infrastructure in Romania and to invest EUR 95 million in the coming years in the gradual transformation of cities under smart principles, says Martin Zmelik, country manager and chairman of CEZ Romania.
 Ovidiu Posirca
 How much has CEZ Group invested in Romania this year and what are the plans for 2017? What divisions attracted most of the investments?
We kept our level of investments as high as in previous years, mostly going into the modernization of the electric grid. In 2016, RON 166.3 million was invested to optimize and secure the low voltage lines, take the meters close to home, improve the quality parameters of the medium voltage grid, extend the automation SCADA system by increasing the remote control level and provide consumers with the proper connection conditions. In 2017, we plan to invest another RON 178.3 million.
In 2016, we continued to invest more than RON 2 million in projects and initiatives for the local community, most of them now traditional and using our employees as volunteers. Maratonul Olteniei, Niciodata Singur and Scoala de Meserii are the flagship projects we're developing, aiming to increase the quality of life in the communities wherein we operate.
How many employees does CEZ Group have in Romania and how many people are working in each of the divisions?
We are a team of approximately 1,800 employees, spread, as of 2016, across 11 counties in the country.
How does the ongoing liberalization of household electricity prices impact the operations of the group in Romania?
First of all, by making us more competitive, creative and client oriented. Our constant pursuit of process and cost optimization has now more than ever a clear objective: the satisfied client and/or consumer. As we were expecting, the opening of the market has proved household clients' mobility, yet we're still talking about a one-digit percentage. We do believe mobility will increase in the coming years. In the best case scenario, clients will be provided with the necessary information to take the right decisions depending on their commodity profiles and demands.
How does the CEZ Group in Romania view the development of smart cities initiatives in the country? I am referring to the ongoing trends emerging on the market, from electric cars to smart metering systems for households.
We believe that the key concept behind smart cities is transformation: a transformation in the business model, new technologies and the way we relate to clients' needs. In the context of burgeoning urban populations, smart cities projects propose an integrated approach to the systems that are essential to the functioning of a city – energy, transport, water supply, health, security, etc – and therefore to ensure the efficient functioning of the critical infrastructure, costs and consumption reduction and optimal allocation of existing resources.
Regarding energy, the component part of smart cities is the smart grid intelligent network which involves two-way communication between utility companies and their customers. Like the internet, the smart grid is composed of automation, computers and new technologies, all working together.
In order for Romania to be able to align to the community objective of energy efficiency and a reduction in harmful emissions, it needs to expand the smart grid projects to a national scale, thereby creating the premises for the development of smart cities.
We are running our engines for a full transformation of the distribution operation model and ready to face the digitalized utility era. Our smart initiatives have an increased degree of automation of grids, at the same time empowering customers over their energy consumption by providing them with the necessary information to take wise decisions about their utility profiles. New technologies are emerging in all fields, and we are prepared to invest around EUR 95 million in the coming years in systems that will allow us on one hand to manage the additional requirements of consumers and on the other hand to be open to integrate our systems with other components of smart cities.
We give significant credit to the future of e-mobility, as well. This is why we are among the most ardent promoters of the trend in Romania. We plan to expand our electric car charging station infrastructure and introduce an own concept in the near future. Currently, our company car fleet includes electric cars that are used by our employees on their business trips.
How can Romania attract more investments in the energy sector?
By providing investors with a stable and predictable economic and legal environment, definitely. In my opinion, added to all the important advantages Romania has as a market (human, natural and know how resources), the stability of the business framework is the only ingredient that can make Romania the harbor of the most important foreign investments.
What is the CSR strategy pursued by CEZ Group in Romania and what results has it had this year?
In the past 11 years in Romania, we have been close to the communities in which we operate in a constant and sustainable way. Our social responsibility strategy is built on the needs we identify and on our inner beliefs.
Over the past 11 years, we have invested more than EUR 5 million, mainly in four key sectors: education, culture, healthy living and sports and infrastructure. All our projects make up the platform Energie pentru Bine, which is more than a name to us; it is what we aim to give back to the community. In the past two years, we have made very encouraging progress in attracting our employees into volunteering. Another important achievement for us is that we have managed to persuade our traditional contractual partners to support our initiatives in an active way: by involving their employees or adding new components to our traditional initiatives.
One of these flagship projects is Maratonul Olteniei, a two-day biking and running competition reaching its fourth run in 2016 and gathering on the start line this year 548 participants. More than 100 employees in CEZ and partner companies volunteered to dedicate their time and energy to the outstanding organization of the event and social cause behind the competition: a EUR 15,000 sponsorship for the pediatric ward in Ramnicu Valcea County Hospital. Referring to the results, one of the things I appreciate most about this fourth marathon is that we saw a significant increase in the number of participants coming from Oltenia, which means that mass sports have become a strong trend in our operational area, as well. I can't help feeling that we made a certain contribution to it too.
Niciodata Singur, a project we began this year, is our form of tribute to the elderly. We are, after all, an Oltenian company, and our connection to our roots remains an important anchor for what we want to become. By means of Niciodata Singur, we aim to give elderly people in Pitesti the comfort of quality time and affection, and to our volunteering employees the rewarding feeling of making a positive difference to somebody's life. I must say there is a lot of emotion in our meetings with the great people in Centrul pentru Varstnici in Pitesti.
Scoala de Meserii, another project we began this year, responds to a common need of ours and the community's: the match between the education system and the employment market. We need a new generation of electricians to be attracted and trained in the upcoming digital era; this is why we are financially and professionally supporting educational institutions, one in Pitesti and one in Craiova, to develop the curricula for more than 50 future electricians. Our employees will be an active part of this project, too, by teaching some of the practical classes and guiding the students during their internships.
We proudly tell all these stories that have a special meaning to us on our Facebook accounts (CEZ Romania and Energie pentru Bine) and on our website energiepentrubine.ro.