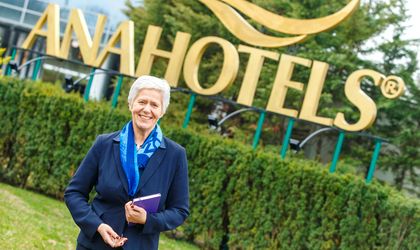 Christine Schillings, GM of Ana Hotels, talks to BR about the group's ambitious investment plans and how the local hospitality industry is shaping up in 2017.
 Simona Bazavan
How much did Ana Hotels post in turnover last year and where did the growth come from?
In 2016, the total turnover amounted to EUR 31.5 million, which was up by 9.6 percent against the previous year. If we look at the hotel business alone – because there is also some real estate business included in this result – the increase is higher, at about 10.6 percent.
In 2016, growth came partly from Bucharest where Crowne Plaza came back very strongly. Athenee Palace Hilton was more or less stable in terms of occupancy but there was a better average rate. The pleasant surprise came from our hotels outside the capital, where we had a very good season both in the mountain resort of Poiana Brasov and at the seaside, in Eforie Nord. There are two reasons behind this.
First we have seen an increase in corporate events moving outside of the capital, probably also because Bucharest was packed. Leisure activity over the weekend has grown quite well too, so we saw a big increase for our two hotels in the mountains last summer and had one of the best seasons in Eforie Nord.
Secondly, as it often happens in this industry, one place's misery is another's success. Security concerns about Western Europe and Turkey have left a lot of companies not knowing where to hold their corporate events. Bucharest has been chosen as a new destination by a lot of companies because it is seen as a secure location and prices are affordable. We get a lot of positive feedback from them.
What are your most recent investment plans and the overall investment budget you have set aside for the next three years?
The core philosophy of Ana Hotels has been and will always be quality.  Over the last two years we have seen the business really coming back again, so based on that and the overall improvement of market conditions, several investments have been decided. One was already done in 2015 and 2016 when all the rooms, the restaurants and the lobby in the Crowne Plaza were renovated for about EUR 4.5 million. In 2016 we also did the lobby of the Europa hotel in Eforie Nord as well as some upgrades in the outdoor pool area.
This year we have started a full renovation of Hotel Bradul in Poiana Brasov for EUR 1.6 million. This will include a refurbishment of the more than 50 rooms and the public areas. The whole idea behind it is to create a warmer and more intimate environment with a chalet feel that will also be reflected in the services.
Also this year another EUR 1.5 million will go into extending the ballroom at Crowne Plaza, refurbishing the club lounge area as well as extending and changing the entire concept of the spa there.
What about your plans for the Athenee Palace Hilton?
Further towards the end of the year, we will also start refurbishing the rooms of the Athenee Palace Hilton, depending on its occupancy. We are running a bit late with this project due to all the required authorizations and also we didn't want to start during the Enerscu Festival. So it will most likely start in October, November. Here we are speaking about a EUR 10 million investment, but that will span two or three years as the 272 rooms will be renovated in phases. For the Athenee Palace Hilton we are also looking at a potential extension by adding a new wing with an additional 60 to 70 rooms. That will require another EUR 10 million and construction is contingent on securing all the building permits.
So as you can see there is a lot of investment. Overall we are close to planned investments of EUR 25-30 million in our properties in the next three years, including the extension which will take up a big part of it.
How do you plan to finance this investment?
It will be through mixed financing: part of it will come from company funds and part from a bank loan. We have been working with BRD and we will be able to secure this financing based on the strong results we have been posting for the past three years.  For the entire investment we are talking about a 30-70 percent split between own funds and the bank loan, which is a balanced share.
What are your expectations in terms of return of investment?
If we look at Crowne Plaza, whose rooms we finished renovating last year, we have seen the revenue per available room (RevPAR), go up by almost 15 percent. This was the impact of the hotel being renovated. At the Hilton I estimate that it will take us six years to pay back the investment, speaking about the incremental revenue, not the global. The extension too should be paid off in five years. Bradul will take us a bit longer because it is a smaller hotel so between six and seven years. So on average we are looking at payback of around five years because in the hotel industry after five years you have to start again with a so-called soft renovation and about every ten years do a complete makeover.
Where do you see potential for growth this year?
If you look at Bucharest hotels they are packed between Tuesday and Thursday with business travelers and corporate events. Where we have observed growth over the last two years is what we call the leisure and weekend business. I have seen it reach a level that I would have never believed possible a few years ago. Even when I was not in Romania I was overseeing the Hilton here so I have been following the market. To have an average occupancy for central Bucharest of 80 percent in August is something that I would never have believed a few years ago. Usually summer in Bucharest would have been around 35-40 percent.
And this is where I think that there is still potential for growth in Bucharest. There is a lot to see and do in Bucharest and outside it. We just have to bring people here.
Do these tourists come here mostly for Bucharest?
If they are here for the weekend then they generally stay in Bucharest. People who stay longer and take their time to visit places outside the capital are generally seniors. I was, for example, in Cannes in November last year to promote Romania and Ana Hotels and people were really interested because they want to discover a location which is authentic and where you really get to experience the natural and authentic ways of living rather than some sophisticated and cold resort. Romania has wonderful scenery and locations. We just have to bring people here.
What would you recommend to a tourist coming in Bucharest for the weekend?
The first thing I would say is put your running shoes on because there is a lot to see. I would definitely recommend seeing Casa Poporului because despite all the history behind it is such an amazing building. And when I say put your running shoes on, I mean walk through the city. There are so many wonderful buildings, houses and places to discover. I would also recommend going to the Village Museum because that gives a good idea of Romania. For those who want to party there is the Old City Center in the evening.
And outside Bucharest?
I think each part of the country is wonderful but different so it would be difficult to say where to go. Wherever you go you will find wonderful scenery, a castle, monastery, vineyard or wine cellar. So wherever you go you will find something to see and you will always be welcome. I still find the language skills that you have in Romania amazing. A friend of mine went to the countryside recently and he said that between English, French and a bit of German he was fine.
What are your expectations for Ana Hotels in 2017 and how do you see the overall market evolving?
We still forecast growth for 2017. If you look at the market from 2014 when the business started to come back, it will be cumulated growth of almost 20-22 percent until the end of this year. Of course the pace of growth is slowing from what we've seen over the past two years but we are outstripping that. So there will still be growth of around 7-8 percent this year. Now it is true that the first two months were difficult due to the weather conditions and the social unrest earlier this year which led to many companies postponing their travel and events. But there has been a pickup since the end of February and there is no reason to believe this will impact the overall results for 2017.
You were in Bucharest in 1997 as part of the team the opened the Athenee Palace Hilton and you returned last year to head Ana Hotels. What has struck you about how the local hotel industry and the city itself have changed?
When I came here at the end of 1996, the Athenee Palace Hilton was the third branded hotel in the city so it was a lot about setting a trend and bringing in a new level of service, as back then there was almost no hotel experience. I remember hiring people based almost entirely on their attitude and less on their actual experience. If you look at the local hospitality industry today, you see a lot of branded hotels, which is excellent because a capital city needs a lot of international brands as they bring in guests. Now there is a fully-fledged local hospitality culture because there is a new generation of professionals in the industry.
As for the city itself, I would say that there are lot more cars. I found an old photo of Calea Victoriei in January 1997 and there were only three cars to be seen.
I think that Bucharest has changed a lot and for the better. Yes, one can always argue that it could be even better but you have to consider there have been only 28 years since the revolution. What Romania has accomplished in 20 years has taken other places in Western Europe several decades. I think the whole society is at a point right now where it is rebalancing itself. There is a new generation whose expectations and views on life are completely different from that of the generation before.