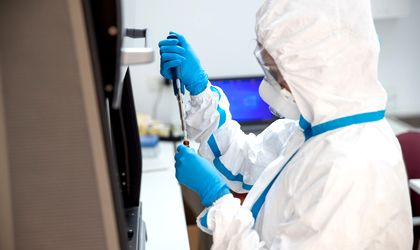 Most RT-PCR tests for the diagnosis of COVID-19 in the private environment have been processed so far in the REGINA MARIA laboratories throughout the country. With a testing capacity of 1,210 tests/day, laboratories perform more than 10% of the tests processed nationwide. With a number of 100,000 tests, REGINA MARIA laboratories have served over 80,000 unique patients so far.
More than 60% of the tests have been performed for female patients and 25% of the tested patients are over 60 years old. Most of the tests were performed in Bucharest, followed by Brasov, Cluj, Prahova, Valcea, and Constanta.
"We have been involved in limiting the spread of the SARS-CoV-2 virus from the very beginning, being the first private laboratory to start processing RT-PCR tests. So far, we have tested patients from all counties of the country and we cover over 10% of the tests performed at national level", says Fady Chreih, CEO, REGINA MARIA The Health Network.

"It is precisely because of the fact that we have been involved since the very beginning that we are now the private laboratory to have processed the largest number of tests for the diagnosis of COVID-19. We operate at full capacity in the three molecular biology laboratories of our Network. Our Central Laboratory in Bucharest continues to process RT-PCR tests 24/7 in order to provide our patients with the results in the shortest possible time," adds Fady Chreih.
Results of RT-PCR tests are available in maximum 72 hours, 30% of which are given on the same day. In recent weeks, there is a growing trend in the number of positive results, with a percentage of detectable tests of 3% over the entire period.
Patients tested with the help of the REGINA MARIA team of specialists are hospitalized patients, patients in dialysis centers, who benefit from testing for COVID-19 twice a month, and people tested upon request at REGINA MARIA testing points throughout the country. There have also been investigated cases from the Public Health Directorates, the operator being at the disposal of authorities since the beginning of the pandemic.
In order to support the frontline medical staff, REGINA MARIA Laboratories continue their free testing to detect the body's immune response to COVID-19, in all cities of the country.