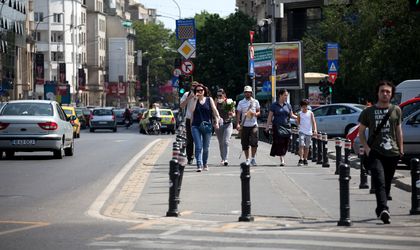 This week,Bucharest feels the vibe of rock music with Ost Fest.  Check out several highlights from this week's arts and culture program here.
EXHIBITIONS
Urban Dialogue – graphic and ceramic installation
June 14 – July 11
Novotel Hotel, Calea Victoriei 37B
Urban Dialogue is an exhibition of graphic images made by Mircea Pop and a ceramic installation entitled "Until death will" designed by Vladimir Buburuzan. The art work presents the substance of everyday city life and also the beauty of feelings and the importance of interpersonal relationships. Every piece is for sale.
PERFORMANCE
Aida
June 13, 18.30
National Opera Bucharest, Mihail Kogalniceanu Blvd 70-72
On the stage of National Opera Bucharest, Alexandru Samoila, the conductor, will lead one of the most famous operas, Aida by Giuseppe Verdi. Kamen Chanev, the well known Bulgarian tenor, will play the role of Radames, a military commander, who struggles to choose between his love for Aida, an Ethiopian princess captured and brought into slavery inEgypt, and his loyalty to the Pharaoh. The four-act opera is based on a scenario written by French Egyptologist Auguste Mariette.
MUSIC
Ost Fest
June 15-17
Romexpo, Marasti Blvd65-67
Ost Fest combines rock, metal and gothic music in an international festival during which more than 30 bands will perform on two stages for 60 hours. Dimmu Borgir, Europe, Holyhell, Lake Of Tears, Manowar, Megadeth, Mötley Crüe, Motörhead, Overkill, Trooper and W.A.S.P. are just a few of the names who will take to the stage this weekend. 
SCREENING
The Night of the Ad Eaters (Noaptea Devoratorilor de Publicitate)
June 15, from 21.00
Sala Palatului, Ion Campineanu Street 28
The Night of the Ad Eaters show, which runs in more than 40 countries worldwide, is dedicated to putting advertising by 60 different nationalities on the big screen in a crazy atmosphere. The message of advertising commercials is sufficiently brief and dense to be understood by everyone, transcending linguistic and cultural differences.
FILM
Cinepolitica – International Political Film Festival
June 15-21
Cinema Studio, Cinema Elvira Popescu (French Institute), theRomanianPeasantMuseum
Cinepolitica is an International Political Film Festival with a competition open to all political feature-length films. While promoting the values of democracy and humanism, the festival aims to close the gap between two otherwise disjunctive worlds: the everyday life of the electorate and the universe of politicians.
Competing for the Cinepolitica Trophy are 12 movies, both fiction and documentaries, from all over the world. The festival has also a series of special programs, debates, master-classes and themed workshops. Besides the films screened especially for the competition, several other movies with political themes will be broadcast for the public.
Premiers
Madagascar3 –Europe's Most Wanted
Opens June 15
Alex, Marty, Gloria and Melman are still fighting to get home to their belovedNew York City. Their journey takes them through Europe where they find the perfect cover: a traveling circus, which they reinvent,Madagascar style.
Director: Eric Darnell
Starring: Ben Stiller, Chris Rock, David Schwimmer, Jada Pinkett Smith
On at: Movieplex Cinema Plaza, The Light Cinema, Hollywood Multiplex, Grand Cinema Digiplex, Glendale Studio, Cinema City Cotroceni, Cinema City Sun Plaza.
Oana Vasiliu