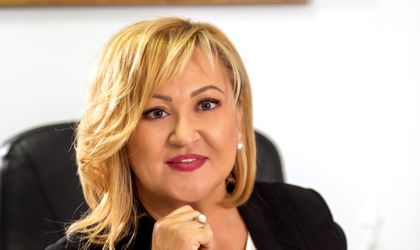 Since its foundation in 1970, Apulum Porcelain Alba Iulia has steadily transformed itself into a major brand on the global porcelain market. The company exports about 90 percent of its products and is aiming to increase production capacity for both the local and international market and launch new lines, company owner Rodica Vasin tells BR.
Anda Sebesi
What is the Apulum Alba Iulia story so far?
Production began in 1970, soon reaching both the local and international market. We received our first private capital in 1991, culminating with the takeover of the majority stake by me, as sole investor, in 2007. This year Apulum celebrates 45 years of existence on the porcelain market.
Over time, the factory has produced household products, decorative articles that in some cases require special preparation, skills and dexterity from the makers. The takeover of the majority stake in 2007 brought a shift to a new managerial vision that involved ambitious policies, re-technology and investment programs developed each year.
The investments in technology boosted production capacities. This allowed us to attain significant coverage on the Romanian market and also enter external markets. Exports started to the Middle East and were later extended to all European countries with tradition and demand. We achieved a high level of quality comparable to major manufacturers and well-known brands worldwide.
Apulum became a real brand as a result of the activity of the management team, coordinated by the majority shareholder. We aim to consolidate and develop in the future through new projects to extend production capacity, thereby creating new jobs with the support of an integrated management system operating since 2010.
The factory now has 1,100 employees (of whom I know almost all personally). We came up with an incentive schemes to encourage them to keep the business on track and to reward them. Also salaries were raised in the first three years after I took over the plant despite our company posting big losses.
Apulum is one of the main porcelain suppliers for Ikea. Since when have you worked for the company and how much does it represent in your turnover?
We first exported to Ikea in 1987. It now represents over 45 percent of Apulum sales.
What is your production capacity and how much do exports make up?
The current production capacity is over 12,000 tons of porcelain and it will increase to 16,000 tons by the end of 2015. Some 90 percent of our production is for external markets. In addition, Apulum will produce a record 40 million units this year, and its production capacity will increase to 48 million units in 2016.
Where do most of your exports go? Do you intend to extend them to other countries?
The main countries where Apulum exports its products are Sweden (to Ikea with distribution in all continents and many countries), Italy, Germany, Greece, Spain, Mexico, Poland, Finland, Bulgaria, the Netherlands, Slovakia, Croatia, Belgium, Lithuania, Macedonia, Moldova, Serbia, Hungary and Bosnia and Herzegovina.
Since 2010 Apulum has been the supplier of the Royal House. What is the main challenge from this perspective?
The special quality level, in addition to the accurate execution of the design commissioned, in the context of the historical importance of the Royal House and the possible exposure of Apulum products to major European monarchies.
What exactly does the company produce?
Our range of products is highly diversified both in design and market segments. They are designed to be sold to both households and the HoReCa segment. We sell all sorts of porcelain tableware items as well as decorative ones.
In our household range, we have included classical, modern and rustic lines and a range of colors, and sell both products for special events and for daily use. In line with the new market trends, we have created new families of products including both traditional ones and unique porcelain themed for Christmas, Easter, Valentine's Day, spring, summer, the countryside, florals, childhood and so on.
What's next?
As I said, we plan to increase the plant's production capacity and launch some mid- and high-end product lines for the local market. We are therefore looking for strategic partners to put this idea into practice.