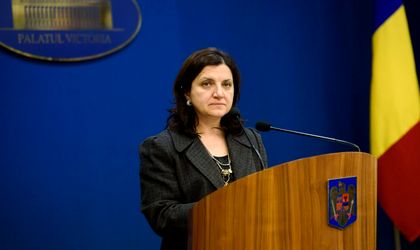 The Romanian government has put up for debate the new National Anti-corruption Strategy at Victoria Palace at a debate organized by the Ministry of Justice and the Prime Minister's Chancellery. The strategy will be on public consultation on the website of the Ministry of Justice and is expected to be adopted by the government on August 10.
"Corruption kills!" Romanian Prime Minister Dacian Ciolos said at the opening of the debate on the National Anti-corruption Strategy, echoing a slogan chanted in Bucharest's squares after the deadly October 30 fire at Colectiv Club. "Do you remember this slogan, only a few months back, and here we see today, in many situations – corruption corroborated with indifference – and it is important to underline this – can literally kill, we saw cases in healthcare, and it can kill socially through alienation, when these ingredients – corruption and indifference – are met in education (…). To give just two examples from two fields where there is a clear feeling in society that we need reform, but we have the impression that the reform must come from the state or from the government," PM Ciolos said.
The PM noted that both in the healthcare sector as well as in the education sector political measures can be taken, but a change of attitude was necessary.
"I can assure you that in both sectors – in healthcare and in education – firm political and governmental measures need to be taken, but in both fields, without a change of attitude on our side, as beneficiaries of the public services in health and in education, we will not be able to eliminate corruption and above all the apathy," Ciolos said.
The National Anti-corruption Strategy proposes "a paradigm shift"
"I start first of all from the premise and my personal conviction that Romanians are of good faith (…) and that us, as a people, are of good faith and that integrity can be learned. Prevention through anti-corruption education are in fact the essence of this strategy in this new stage where we have a functioning justice [system]. Of course we need prosecutors to keep on being efficient, judges that continue to be efficient, but we need, at this stage, especially to prevent situations that can lead to trials in court. Therefore it is a matter of a paradigm shift in the way we approach this anti-corruption strategy, insisting from now on more on the prevention and education side," Ciolos added. "Implementing the anti-corruption measures is not optional," Ciolos warned.
Justice Minister Raluca Pruna reiterated the idea that the newly-launched National Anti-corruption Strategy was proposing "a paradigm shift." (…) Combating corruption only through the state's coercive force and the DNA's extraordinary activity is not enough. The paradigm shift that we propose is one that involves responsibilities at managerial level. (…) It is important that, at leadership institutions understand each other, to undertake the fact that anti corruption starts with the management of public resources, with transparent decisions and using instruments of audit and internal control," Minister Pruna explained.
Georgeta Gheorghe