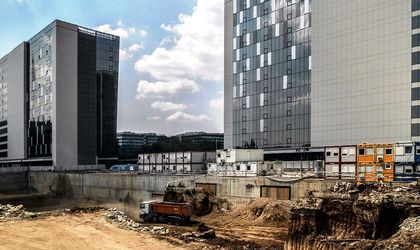 Real estate developer Globalworth started the construction of the Globalworth Campus business center, the Tower 3 building, with a total rental area of ​​approximately 35,000 square meters.
"The office complex will be completed by the end of next year and has already been well received on the local market. Renowned companies chose to open up or expand their business in our buildings due to high-quality technical features, environment-friendly and easy-to-reach specifications. Both completed buildings, Tower 1 and Tower 2, are rented and we are already in advanced negotiations for the premises of the latest Tower 3 office building," said Ema Iftimie, head of leasing Globalworth.
The Globalworth Campus will comprise three office towers with a rental surface of 92,000 sqm and 760 parking spaces as well as green areas and a large conference room. The Tower 1 building was completed in July 2017, and its 29,000 sqm area is leased to Amazon and Honeywell.
The second office building, Tower 2, was completed in April 2018, providing an additional surface of 28,000 sqm. The tenants who will work here are Stefanini Romania, Mazars Romania, Chain IQ and P4Cards. Globalworth is now developing the last Campus office building, Tower 3, which will have a leasable area of ​​approximately 35,000 sqm.
Moreover, by the end of 2019, the project will integrate one of the largest conference centers in Bucharest, developed to the highest standards existing on the market.
Additionally, the company plans to build the fourth Green Court building, developed according to the same standards of the three already existing, both architecturally, as well as quality and energy efficiency. The company also plans to start construction work for Globalworth Square, a new office project, close to Green Court.