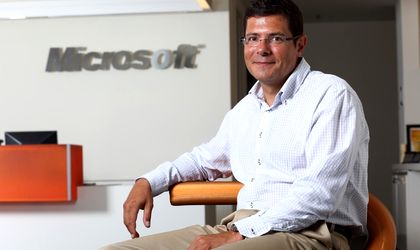 Microsoft Romania is on the lookout for a new general manager after Ronald Binkofski was promoted as head of the Poland branch.
In the meantime, Sorin Eftene was appointed interim GM, also being among the candidates who have applied for the full-time GM position.
The search is taking place not only in Romania but also across the entire Microsoft organization, and outside it.
"We do not have a clear deadline for finding the new leader. The shortlist will be done in a couple of weeks. We will take as long as it takes to find the right candidate," said Vlad Bog (in picture), HR Country Lead at Microsoft Romania.
Microsoft is looking for a general manager with a strong background in sales, this being one of the main requirements. Other key traits include strong ethics and the ability to represent the company efficiently on the market and within various organizations.
"It is quite rare to have a country GM without a strong sales background. It has happened before, but it is quite rare. Sales experience matters but the number one thing is to know how to represent the company on the market and have the know-how to run the organization," explained Bog.
At the moment, Microsoft Romania has about 400 employees.  Binkofski said there were several things he learned from Romania and replicate in Poland, a branch with four times more employees.
Binkofski is leaving behind in Romania a company that "is growing over market expectations," he said. "We have posted single digit growth of up to 7% in most areas while in others we even registered double digit growth in the first half of the fiscal year," he said.
One direction in which the company is moving is cloud services.  "There is a cloud adoption in Romania which is at a very early stage. We are watching this closely," said Binkofski.
 Otilia Haraga