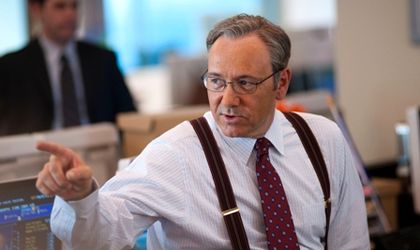 Not many movies are set in banks. This is because, unless they are being held up at gun point, banks have been largely boring places. However, at some point the staid gents of old were replaced by reckless City boys playing Russian roulette with our jobs and homes, thus rendering banks of rather more dramatic interest.
One creative result of this is the independent thriller Margin Call, which follows a critical 24 hours at an investment bank. At the beginning, the axe is falling on vast swathes of the workforce. As he is being escorted out by a security heavy, sacked risk management worker Eric Dale manages to alert a colleague of his suspicions the bank is hugely over-leveraged, and a decline in economic sentiment could bring down the whole house of cards. His calculations corroborated, the big guns are brought in and the story charts the institution's desperate attempts to save itself at any cost.
Set almost entirely in the bank's expensively anonymous corporate offices, Margin Call keeps things taut, and would work well on the stage. It's an intelligent film, examining how the impersonal, impenetrable construction of global finance sucks in and dehumanizes decent people. More than one character compares the abstract and meaningless nature of much of their work unfavorably with the honest toil that creates real value in the world. And yet the lucrative spoils keep them in the game despite any finer instincts.
It's all done with an impressively high-caliber cast for an independent feature. Kevin Spacey, Demi Moore, Paul Bettany, Jeremy Irons and Stanley Tucci are among the corporate drones of various pay grades who have made their compromises. But the film is not concerned with condemning individuals; they are just cogs in the wheel.
There is no violence in Margin Call, not even very much shouting. It's an understated movie and can afford to be – every viewer will be familiar with the ramifications of the decisions made by these characters in their thousand-dollar suits and Rolexes. It perhaps invites comparison with United 93, both of which provided a non-sensationalist, fictionalized take on destructive actions that came to reverberate around the world.
Though the intrinsic subject matter is somewhat dry and technical, this is a compelling story of greed, betrayal and morality that is no less powerful for being set on Wall Street rather than in a traditional war zone.
Debbie Stowe
Directed by: JC Chandor
Starring: Kevin Spacey, Demi Moore, Paul Bettany, Jeremy Irons, Zachary Quinto, Stanley Tucci, Simon Baker
On at: Cinema City Cotroceni, Cinema City Sun Plaza, Grand Cinema Digiplex Baneasa, Hollywood Multiplex, Movieplex Cinema, The Light Cinema