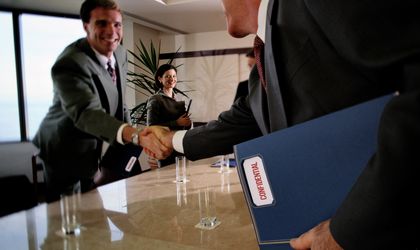 The local market for mergers and acqusitions (M&A) registered deals worth USD 3.6 billion last year, ranking fourth in the region, according to a report by professional services firm EY.
Deal-making in Romania intensified last year, with the value of the market going up by 22.4 percent against 2014, notes the EY CSE M&A Barometer 2015.
Turkey had the biggest M&A market with deals worth USD 10.8 billion. Poland came second with USD 7.6 billion , while The Czech Republic was third with USD 7.2 billion.
You can also read: Romanian deal-making at record levels in 2015 | What is the forecast for this year
In Romania, the hottest sectors for transactions were IT, energy and mining.
Overall, the value of transactions in central and southeastern Europe grew by 12 percent in 2015.
"On the back of a slight drop in the number of transactions, this growth was supported by an increase in the average value of a deal. The sectors in which the biggest deals, on average, were made include banking and financial services with transactions averaging at USD 213 million, transports and logistics which averaged at USD 107 million per deal, but also the telecom and media sectors, where the average deals amounted to USD 83 million," said the report.
The biggest transaction in the region was the take over of Finansbank by Qatar National Bank for USD 2.9 billion.
In terms of transactions' value, the acquistion by Italy's UniCredit of the 45 percent stake owned by Romanian businessman Ion Tiriac in UniCredit Tiriac Bank for USD 771 million, comes fifth in top 10 deals in the region.
Last year, there were 1.281 deals in the reigon, out of which close to 40 percent were made public.
Ovidiu Posirca