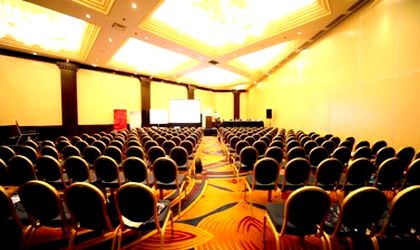 The MICE industry – meetings, incentives, conferences and exhibitions – generates between 70 and 80 percent of Bucharest hotels' revenues but Romania is far from being known as a MICE destination, said Radu Cimponeriu, MICE expert, during a tourism event organized today, according to Agerpres newswire.
The average amount of money a MICE participant spent in Europe last year was EUR 1,620 per event which would mean about EUR 437 per day, he said. In Romania this stood at about EUR 250 per day. Even so, this is higher than the average EUR 150 per day a tourist spends during a regular trip.
The MICE industry represents big business for many countries, but Romania lacks several factors in order to become better known on this segment. While Bucharest boasts a significant number of four- and five-star hotels, it lacks a large conference center, added Cimponeriu.
Not everyone shares this opinion, however. Ioan David, general director of the local Ibis hotel chain, recently told BR in an interview that less than 20 percent of the existing MICE infrastructure is currently being used.
While Romania is a destination for business tourism, it is considerably less known when it comes to MICE events. The country ranks the 26th position out of 35 in a top of European countries organizing international events, coming behind Serbia. In a similar ranking, Bucharest landed the 51st position out of 178 European cities in terms of organizing events, said Jamil Benabdallah, the representative of the Romanian Association of Events' Organizers.
Simona Bazavan