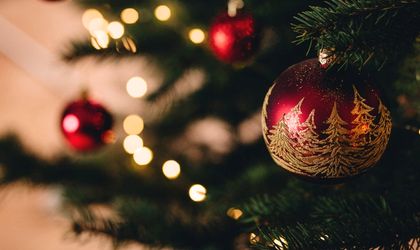 Although most of the Christmas decorations are made in China – fortunately or unfortunately, it depends, some of the Christmas decorations that are currently on the market are made in Romania. And Santa has several factories where Christmas magic takes different forms and shapes.
There are only nine days until Christmas so probably at this point, you've already decorated your tree with blinking lights and beautiful Christmas baubles. But did you ever ask yourself where all of these holiday decorations come from? For everyone's surprise, we have in Romania more than one factory for producing Christmas decorations.
First stop: Curtea de Arges, Arges county
Adress: 7 Victoriei Street, Curtea de Arges
News portal Antena 1 informs that a trip to this particular workshop costs up to RON 50 and includes a warm meal, as well as a complete tour to the factory. Kids are particularly encouraged to come, but I might suggest everyone should step in this Christmas-fairy Romanian world. The factory is also opened in weekend. Complete portfolio of products can be seen here.
Next stop, the heart of Transylvania: Cluj Napoca, Cluj county
Address: 18 Patriciu Barbu Street, Cluj Napoca
The local press just revealed an interesting featured article about the tiny Christmas miracles are happening there. Half of the production is going to the United States of America. The small factory is the most profitable from the country, with 40 employees who are doing most likely unique Christmas balls by hand-painting each and every glass decoration. All the ornaments are mouth blown, silver plated from the inside and finally decorated and painted manually. The kids who visit the workshop receive a full story regarding the relationship of the factory with Santa. Probably one of a kind experience. The official information can be read here.
Going a bit south: Pucioasa, Dambovita county
Address: 55 Patrana Street, Pucioasa
Here is another of Santa's workshops. Most of the visits are made by schools and kindergartens, but with a phone in advance you can enter to the magic world of glass decoration for Christmas. According to their website, they are out of stock, but I guess it's worth giving a try with a trip there. Complete information, here.
West for the best: Timisoara, Timis county
Address: 695 Principala Street
Probably the most known Christmas decorations factory from Romania, which has been on a contract with Santa for a while now – and also communicated to the press for a couple of years now. They also produce artificial Christmas trees, so it's definitely a must-visit destination this time of the year. Take a look online first, then give a call. And send us some photos if you check in there.
Sorry if we missed some of the workshops. Probably Santa will notify us. Merry Christmas!