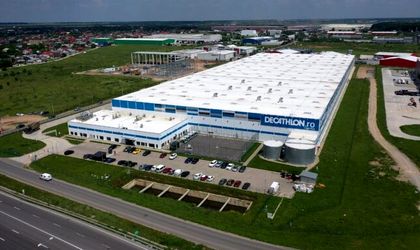 Decathlon, the largest sporting goods retailer in Europe, and Sameday, one of the leaders in the local courier market, announce the development of a partnership that aims to provide an improved experience for their customers. Thus, starting with the second half of 2021, Sameday offers Decathlon easybox and door-to-door delivery services, enabling the support of the retailer's e-commerce development strategy and ensuring Decathlon customers' access to products ordered online.
"A successful partnership is based on a series of common values. In the case of Sameday and Decathlon, these include orientation towards the customer, the environment, a constant desire for improvement and transparency in communicating with consumers. We are pleased to provide Decathlon with our expertise and delivery technologies and I am confident that, together, we will be able to have a major positive impact on both the consumer experience and the environment.", said Elena Stoica, Chief Commercial Officer, Sameday.
—
"Our mission is to make sport accessible to as many Romanians as possible in a sustainable way. We know how important time and proximity are in the current context and we try, through the partnership with Sameday, to bring our products closer to customers, through faster and more comfortable delivery services. We want them to enjoy the time gained in practicing sports. We are therefore confident that this partnership will be a major benefit to our customers.", declares Dragoș Brînza, Digital Leader Decathlon Romania.
Both Sameday and Decathlon are seriously and consistently pursuing their social responsibility commitments, being actively involved in the community and in environmental protection actions.
All partners of the sporting goods retailer are evaluated and selected according to their degree of compliance with the sustainable management of the company. Also, for a reduced impact on the environment, Decathlon has completely eliminated the use of plastic in packaging for standard packages. Over the years, Sameday has shown concern for reducing its carbon footprint and has taken steady action in this regard. Thus, the courier company uses contract management systems that reduce the consumption of paper, recyclable packaging and has a fleet of 30 electric cars. In addition, the delivery service in easybox lockers is known for its environmental benefits, as it substantially reduces the fuel consumption of couriers, but also of consumers.
Innovation and technology – the key elements that improve the consumer experience
Sameday and Decathlon have developed application ecosystems centered around the consumer experience, aiming to increase the level of satisfaction in each point of contact with the brand. The two companies benefit from technological logistics centers, which ensure a high level of productivity and efficiency. In addition, Sameday's focus on responsible collection and efficient use of data helps the company understand the needs of customers and final recipients, respond to them in real time, and prepare for the future.
As a result of this partnership, some of the Decathlon deliveries will also go to the easybox lockers. With over 1,500 points in Romania, the service offers fast delivery and return options, directly in the locker, but also access to an interface, that has been developed from scratch and improved, over time, based on user feedback.