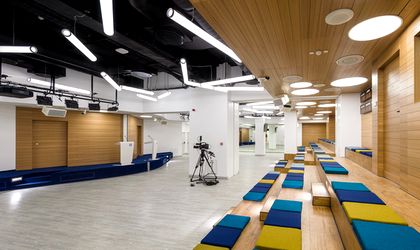 DB Global Technology, Deutsche Bank's technology center in Bucharest, celebrates five years of activity. The center has reached 900 employees this year and developed a team with a multitude of technical and business skills.
The mission of the center is to produce state-of-the-art software for the bank's global operations. In the period 2013-2018, the team in Romania has developed 500 international projects with global impact and more than 750 production launches for applications integrated in the internationally awarded Deutsche Bank's mobile banking and trading systems.
"DB Global Technology is not just a job, it is also a training center for the future technology experts of Romania. Ever since we entered the Romanian market five years ago, our priority was to cultivate local talent and develop the Romanian start-up and technology sectors, thus achieving the best software and business solutions for Deutsche Bank," said Marian V. Popa, general manager of DB Global Technology.
Investments in local team training courses have contributed to the successful completion of many international technology projects in areas such as mobile banking, treasury, risk and compliance, wealth management, corporate & investment banking or global acquisitions. Only in 2017, almost all DB Global Technology employees took part in one or more of over 200 training sessions that took place during the year.
"The fact that we brought together the most talented Romanian professionals and contributed to their improvement in software development techniques, business analysis, testing, IT architecture and project management is a constant of these five years. More than 75% of our employees are part of the millennial age group, and training programs – as a tool for talent fructification – are the basis of our business model," added Popa.
DB Global Technology's headquarters in Pipera have expanded steadily over the past five years, and now comprises five floors with an area of ​​13,000 square meters. An important achievement in this regard was the inauguration in 2017 of the Digital Workplace, a flexible and ultramodern area, designed as a city and designed to transform the formal workspace into one adapted to various activities and work preferences. DB Connect is also a multifunctional event center that brings together employees, industry representatives and NGO members.
Through numerous educational projects across the country and through the various partnerships with the most prestigious technical and economic universities and the unprecedented growth of the Center's activity on the local market, DB Global Technology has received from the Employers Association Services in Romania (ANIS) award "Member of the Year" in 2017.
Deutsche Bank has been present on the Romanian market since 1998, offering personalized products and solutions for Corporate, Investment and Transaction Banking, for corporate and institutional clients, as well as Private Wealth Management services for individuals. Deutsche Bank is one of the most important German banks, winning the distinction of "the most important bank" in Central and Eastern Europe. Deutsche Bank is a traditional partner of the Romanian authorities and has contributed to some of the most important financial transactions in Romania (in the energy, transport and social housing sectors).