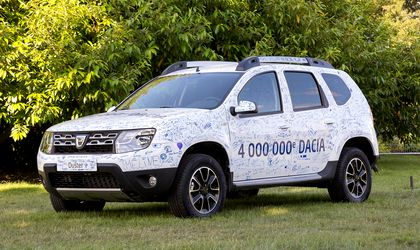 The Romanian brand Dacia registered a record of 4 million sold cars in the world. The event was celebrated in France, where the customers of the brand and their families gathered for the "Big picnic Dacia".
The car with the number 4 million is a Duster that Denys Charrasse bought from the Dacia agent from his city, Saint-Quentin-en-Yvelines,  entering in the history of the brand.
Charrasse was celebrated within the Big Picnic Dacia by 11,212 participants of the event, who had the possibility to sign or to leave a message on Duster car especially prepared for this occasion.
Dacia is present in 44 countries, and the success of the brand is seen especially in the French market. In France, Dacia is on the fifth place in cars sales, while Sandero is this year the most sold model to French clients by natural persons.
The eight edition of Dacia customers from France ended with a concert of the artist Christophe Willem and the guests could also attend a presentation of the Dacia range and the programs launched by French customers and sports activities (voleyball, football, nautical games).
Georgiana Bendre