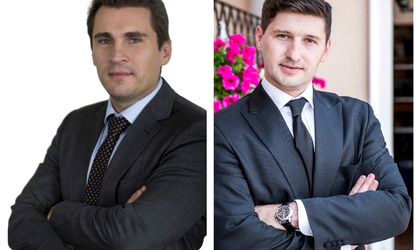 CITR has appointed two new associates, Adrian Lotrean and Alexandru Tanase, taking the associative structure to a total of seven members, the company informs.
Both new associates previously held management positions within CITR branches.
Adrian Lotrean has over nine years' experience in the management of insolvency proceedings and restructuring of business administration and held several positions such as senior jurist, team manager of Bucharest and Muntenia regional manager in Moldova. Since 2014, his responsibility is to coordinate the company's elite team, a team that manages some of the most complex projects.
Alexandru Tanase has 12 years of experience in corporate banking, insolvency proceedings and restructuring management. From 2014 to 2016, he was team manager of CITR Brasov and starting this year he is in charge of coordinating the Transylvania region subsidiaries in Brasov, Cluj and Bihor.
They join Andrei Cionca and Radu Lotrean (founding associates), Vasile Godinca-Herlea and Andreea Cionca-Anghelof (coordinating associates) and Rudolf Vizental (CEO CIT restructuring).
CITR provides insolvency proceedings consultancy and restructuring management through a team of over 110 people and eight branches. The company has managed over 800 insolvencies and covers a wide area of expertise: real estate, construction, agriculture, media, transport, pharmaceuticals, food, wood, footwear, ceramic production, bakery, commercial, mining and processing of oil products, ferrous ore processing.
Natalia Martian