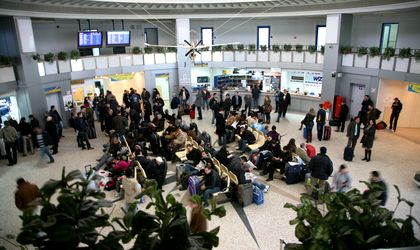 The two airports from Bucharest were included in the top 5 European airports that registered the highest growth of the traffic in the first quarter of the year, according to the Airports Council International – Europe, said on Monday the National Company of Bucharest Airports (CNAB).
"At the category of airports with 5-10 million passengers/ year, Airport Henri Coanda, which had a growth by 21.4 percent of air traffic, was on the fifth place, after Reykjavik-Keflavik (Island), Kiev (Ukraine), Larnaca (Cyprus) and Malta. Baneasa airport was ranked on the first place, but under the category of 5 million passengers/year, followed by Nis (Serbia), Oradea (Romania), Mykonos (Greece), Zadar (Croatia)," according to the release of CNAB.
In the first quarter of 2017, the ranking for airports with over 25 million passengers/year comprises Moscow Sheremetyevo, Manchester, London Gatwick, Amsterdam and Oslo.
In the 10-25 million passengers/year category, the biggest airports were in Warsaw, Sankt Petersburg, Lisbon, Prague and Brussels.
CNAB registered on International Airport Henri Coanda Bucharest and International Airport Bucharest- Baneasa Aurel Vlaicu a traffic of 2.6 million passengers and 28,249 departures and arrivals.
"The evolution of the two airports outruns the general trend registered at European level, of 6.9 percent. Also, the Bucharest airports recorded a growth in the flights number, outrunning the European growth trend of 3 percent, " says the release.