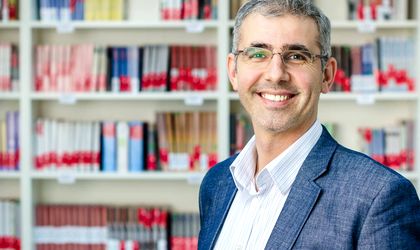 With e-books gaining more and more ground over physical ones, Bookster has a big challenge ahead: to restore the joy of reading a print book among employees of the Romanian corporate sector.
 Anda Sebesi
After 14 years of executive management at the real estate consultancy firm Colliers Romania, in 2010 Bogdan Georgescu decided to lay the foundations of a project with a social impact in the community. In 2011, with the help of a team of students, Georgescu and his business partner, Alexandra Stroe, tested seven ideas in a business incubator, Novel Ventures. The first social project he decided to set up was Teach for Romania, part of a global education network called Teach for All.
The former CEO of Colliers is also known as one of the most active promoters of reading, being one of the few managers and entrepreneurs ready to put his money into supporting the activity. As a result, in 2013, the two Romanian entrepreneurs launched Bookster, a service specialized in loaning books to employees of both medium and multinational companies, based on subscription. Bookster, the most modern library for companies, is the result of an investment of about EUR 1 million and has over 30,000 subscriptions from about 200 companies in IT, telecommunications, automotive and FMCG so far.
According to Ziarul Financiar, workers at Banca Transilvania, UniCredit Leasing, ING Bank, Vodafone Romania, Orange, Rompetrol, EY Romania, Regina Maria, Colliers, PeliFilip and Corporate Office Solutions are among Bookster's subscribers. As Georgescu told ZF, books are recommended to subscribers based on a specific algorithm that tries to understand the profile of each user and makes recommendations depending on what they like and need.
Companies pay between EUR 3 and 5 per month per subscription, depending on their size. Items are delivered to their office on a weekly basis. The library has books, articles, case studies, audiobooks and video materials, and subscription entitles users to unlimited access to all Bookster products.
The library has three major genres: professional development (management, strategy, IT, sales, finance, human resources); personal development (psychology, emotional intelligence, teamwork) and leisure (fiction, photography, cooking, parenting, science fiction, history). Business Insider, The New York Times, Inc., The New Yorker, Harvard Business Review, Harvard Business School and McKinsey & Company are among the sources of specialized articles to which the library grants access.
But Bookster has a high appetite for expansion, and its two founders announced their intention to extend their business at international level last year. The reason behind this move is that they intend to reach 1 million subscribers, a goal that is achievable if the company makes its entrance onto new foreign markets. Poland and Turkey were on their map for the region.
The two entrepreneurs also targeted the US because of its size and one particularly salient piece of information: in America online books have already unseated print ones. In addition, the American legal framework is quite simple and permissive for such businesses. As a result, the company participated in a start-up accelerator called 500 Startups in order to extend its business on the US market last year. As Georgescu told ZF, after passing the first two interviews, the two entrepreneurs decided not to take it further as they were asked to sell part of their business. "We don't plan to sell the local business," Georgescu told ZF.
He added that the company expected a EUR 1 million turnover last year with a profit margin of 10 percent. According to internal estimations, the firm is worth about EUR 5 million, and the two entrepreneurs are thinking of listing it on the stock market in the next future.
Bookster was founded by Bogdan Georgescu and Alexnadra Stroe in 2013. At present, about 100,000 employees have access to its titles and materials. Bookster has 200 companies in its portfolio on the local market and about 50,000 books and 30,000 subscribers so far. According to ZF, quoting Georgescu, the company aims to attract 1,000 new subscribers per month and reach 40,000 subscribers in a year.