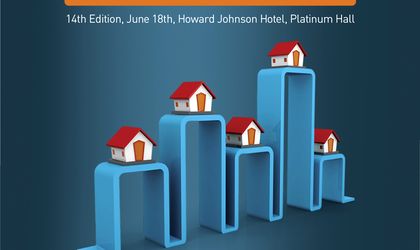 What are the trends shaping the local real estate market in 2015? Office, retail, industrial and residential – what factors will influence the evolution of each of these segments by year end? Will the market come close to last year's record level and will new players make an entrance? These are just a few of the topics that will be discussed at Realty 2015.
Business Review is proud to continue its tradition of organizing the Realty event with its 14th edition that will take place on June 18th, at Howard Johnson hotel, Bucharest.
The forum provides networking and learning support for industry professionals keen to spot opportunities and trends, find potential partners, meet decision makers and build a profitable business on the Romanian real estate market.
Among the top specialists invited to discuss on the subjects are: Sorin Visoianu, Country Manager Office & Logistics Romania and Bulgaria, IMMOFINANZ Group, Stefan Tudos, Leasing Manager, Genesis Development, Aurelia Luca, Leasing Manager, Skanska Property Romania, Georgios Argentopoulos, CEO, Baneasa Developments, Laszlo Csiki, CEO Adama Group, member of IMMOFINANZ Group, Adrian Erimescu, Co-Founder, CEO at Imobiliare.ro, Gabriel Voicu, Director,  New Homes Division Coldwell Banker, Anca Damour, Director, Carrefour Property Romania, Mihai Paduroiu, Head Office Agency, CBRE.
The event is structured to cover all three main real estate business areas: Office and industrial, Residential and Retail, and the panel discussions and presentations will include case studies and success stories meant to bring solutions for a better business environment for this sector.
Romania's attractiveness in the region for real estate investments, the new development poles on the residential segment, the potential of the office market to absorb the increasing stock of new space being delivered without increasing the average vacancy rate will also be in the event's agenda.
The event organized by Business Review will take place on June 18th, 8.30 to 15.00.
Save your seat at Realty 2015 forum and make sure you are at the center of the hottest debates on key issues in the industry. Make your opinion heard and meet the trend makers.
All those interested in participating can register online by completing the registration form, by phone – 031 040 09 31 or via email – events@business-review.ro.
Find out more details about the event, the full agenda and speakers at http://business-review.eu/br-events/realty-2015-the-romanian-real-estate-market-forum.