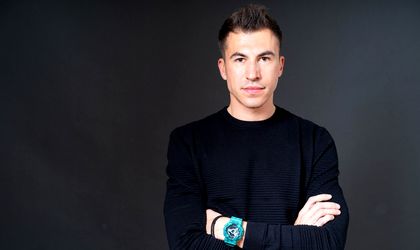 With a Bachelor's Degree from the "Ion Mincu" University of Architecture and Urbanism, he founded his own interior design company in 2014 and since then has been transforming the living and business spaces into beautiful and comfortable places. Sergiu Califar believes in the fact that an architect today needs to be a good artist, handicraftsman, entrepreneur, and psychologist at the same time. BR talked with Pure-Mess Design's founder about the trends in the industry, competition, values, the influence of the pandemic now and in the future, and many more.  
By Romanita Oprea
How has the pandemic influenced you and the business?
In the beginning, we had several delays for our projects, as clients postponed them due to the unpredictability. As time passed by, new clients found Pure-Mess Design and turned to us, trusting us to design their projects. Meanwhile, the ones that had postponed theirs have asked us to continue what we discussed, so careful planning was necessary as we managed several projects simultaneously.
What about the interior design industry?
Shipments registered delays in the beginning, and our materials got stuck overseas. The impact was obvious, as we needed to postpone some of our projects due to the lack of materials. Everything went to normal as time went by and we are now fully hands-on with ongoing and pending projects.
How long do you believe we'll see the results of that impact?
2021 started in a promising way because people are more and more interested in their wellbeing, and therefore are willing to invest in quality design. We saw how many families chose comfort and moved from two to three-room apartments during the pandemic or from their apartment in the city to a house nearby Bucharest.
What do you expect to change post-pandemic and why?
Some changes happened even in 2020, and we see the trend continuing in 2021; clients have shown higher attention to details and a greater interest towards self-comfort or towards design pieces that pass the test of time.
Lately, we also observed that customers are keener on custom designs compared to the previous years.
What were the first measures you took?
We started working from home, and for the on-site projects, we planned the work teams in shifts. In this way, we kept all our team members as safe as we could, the goal being not to intersect the people or have them meet with each other.
What are your goals and expectations for 2021?
More projects and especially a higher number of designed square meters. More and more clients have generous spaces that allow us to tailor every detail. In this way, we also have the advantage of coming up with solutions for their needs without constraints from small premises or partitioning.
What are now expecting the developers from the interior designers and what are they offering in return to differentiate themselves on the market?
They expect us to look for quality materials that make a statement on the market.
Their offering comprises a mix between visibility and communication. As the developers started to promote projects individually and created better ways of communication with the end-users, we also observed that clients are more informed about the new buildings and know what to expect when they will move in.
What do you do differently?
The interior design projects represent one hundred percent of our clients, so we pay attention to their needs and, in most cases, solutions comprise of custom-made designs.
We provide plans that start from scratch as no project is like another, implement the interior design projects from the first renderings to supervising the on-site executions, and also offer consultancy services, or cost management.
How tight is the competition?
As tight as it can be. Sometimes it is difficult to keep the pace at the same speed or to constantly strive to outdo the previous projects. It all depends on the client's budget and the space that we need to design. These two elements have significant input on the final projects.
What are the main mistakes that you see done in the industry and why?
We see lots of elements that are overused, and this situation is happening only because of the hype that one piece of furniture has around it. Everyone wants to integrate it in some projects, even if the premises are different, and in this way, the piece becomes tedious.
What are the trends for 2021 when it comes to office buildings?
Home is the new office, and it will remain this way for at least six months from now on. The transition will include the wellbeing of the employees, as they need to have comfort in the office, from relaxation areas to a fully equipped kitchen.
How often are these trends changing in your field and why?
Exotic vacations have an impressive saying on the interior design trends nowadays. People are in continuous change and, when they start thinking about themselves, their values, or needs, the interior design trends are also changing.
Alongside the Wabi-Sabi trend that gets more attention, clients are interested in natural materials and raw elements.
What do you do to educate the clients and the market?
At the beginning of a new project, we look at the client's mood board with their plans and wishes. After this phase, we try to find the perfect ratio between their wants and the premises' options, while keeping some elements that they want us to integrate or adapt. Sharing is our way of being part of the educational process, as we always give comprehensive explanations about our projects and show the whole process, from mess to Pure-Mess.
Are the designers doing something to stimulate the rebirth of the HORECA industry?
Yes, of course. We design projects more functionally by creating paths and aisles to delimit space while also including them in the interior design plans. We also support the HORECA players through our design expertise by transforming restaurants into modular spaces with an emphasis on clients, as they should have intimacy and enough distance between them.