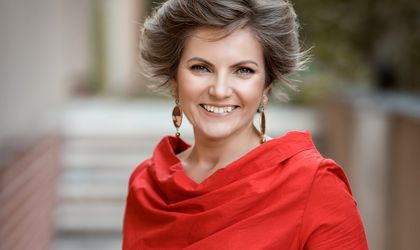 More than 17 years of practice in communication strategy and public relations consultancy, as well as corporate and brand communication and employer branding for clients from Tech & IT&C, FMCG, Retail, Pharma, Services, Transportation make Raluca Ene, managing director, Chapter 4 Romania, a very experienced communication specialist in the Romanian PR market. BR had an open and interesting conversation with her about how 2019 developed for the agency she is representing, as well as for the whole local industry, about creativity, budgets, trends and inspiration.
By Romanita Oprea
How was 2019 for the agency in terms of turnover /revenues?
We had a strong year and our results aligned with our expectations.
What were the departments that were most successful? What about the least successful ones?  
We have always been in this together as a team and last year was no exception from the rule. What I can say is that we have seen a different dynamic for B2B and B2C clients across the year, with different peaks of activity for the respective departments. Still, overall, we were pleased with how they balanced one another.
What about the pitches entered?
One of the main things we love about our job is the huge diversity of opportunities that come our way and push us to find ever different means to tailor the tools of the trade and our strategic thinking to the particularities of a plethora of industries. Last year, we were faced with requests for offers from the most varied of companies, active in highly challenging sectors of the economy.
And while our success rate in turning prospects into clients was well above the 70 %, the main difference we noticed was in the complexity of the offers we needed to prepare. 2019 pushed us out of our comfort zone. More often than not, instead of starting from the clients' communication objectives, we need to take a few steps back and actually do the work of building the communication objectives together with them. We realized that an increasing number of companies today are looking for a communication partner, but are not clear on how this partner could or should support their business purposes.
How would you characterize the local PR industry in 2019 in terms of budgets, campaigns, creativity, etc?
From where we were standing, 2019 started at an extremely slow pace and investments in communication services took off rather late in the year. When they did, many requirements circled around building a solid strategy before anything else. At the same time, though, the pressure on budgets for implementation reached unprecedented levels. When coupled with what is effectively a human resources crisis in our industry… well, let's just say it must have made many agencies go back to the drawing board and redo their annual planning.
On a more positive note, though, as the years go by and the market becomes ever more competitive, I see a new understanding of creativity emerging: it becomes less about the external packaging of ideas and more about creatively using the communication instruments to ensure the biggest ROI in terms of visibility, awareness or even sales for clients.
What were the most important changes & novelties in the agency in 2019? What do you hope for 2020 for the PR Romanian industry? What about for Chapter 4?
I believe that 2019 was the year when we learned, once and for all, that the way forward for our agency is to challenge our assumptions – even if these stem from years and years of experience. We learned that keeping up with changing trends in how people consume information, how they make buying decisions and how they decided to put their trust in someone may be hard to take in, but it is the only way to ensure rewarding results. Both for our clients' growth and our own.
What trends did you notice on the local market last year and how do you intend to follow them /represent them at your agency? What do you foresee for 2020 from this point of view?  
Our key learning from 2019 was that PR, as we knew it, does not exist anymore.  This brings good news and challenging ones at the same time. On the plus side, we have the fact that we are closer than ever to getting a seat at the business table and becoming the command center for the strategic approach of the client's full communication spectrum. This, however, means that we have no choice but to enrich our arsenal of knowledge with the most varied of communication tools, from areas as distinct as digital, advertising or public affairs.
Beyond the challenge of exploring new areas of expertise, what I appreciate the most is the fact that these tools come with the means to clearly measure results that PR previously lacked in proving itself. I think it has never been h easier to measure visibility, reach or public sentiment and corroborate them with sales.
The challenge going forward now rests in managing to internalize the steep learning curve of going from working on the clients' communications to actually build those objectives together and only then looking for strategic and practical solutions. In order to take us that one step further, we've already started investing in ways to support our teammates become aware and knowledgeable about related areas of marketing and communication, while also working with them to have a more strategic approach to our everyday work.
What are the changes you intend to bring in the agency in 2020 and why?
Over the past couple of years, we did several client satisfaction surveys that indicated the areas where we perform the best and the things clients appreciate but also revealed thought-provoking insights about the way in which we could rethink our business to be better prepared for the changes that are undoubtedly going to reshape the market in upcoming years. Thanks to these, we've already started 2020 with slight tweaks to our internal organization and to our work process. We are also working on developing a couple of new services that we are very excited about.
Where do you see the Romanian PR industry compared to the European PR industry?
As part of a regional group of agencies and through our partnership with BCW, one of the top 3 largest PR agencies in the world, we have our ear close to the ground with everything that happens in the PR industry at a global level. What we have increasingly seen over the past few years is that the distance between the competencies of local agencies and those of agencies active on much more mature PR markets became almost non-existent in the past years. In our case in particular, we've been proud to routinely see our work and our ideas serve as an example of best practices for other agencies and this gives us the confidence to say that Romania is rather vying for the top spots.
Where do you believe to be our industry's main problems and how can they be changed?
Workforce scarcity has been plaguing the Romanian economy for years and it was only a matter of time before it began to impact our industry as well. Simply put, it has become very difficult to find good new employees and this naturally puts additional pressure on agencies' workflows. At the same time, the budgets that clients are willing to allocate for communications projects are rather stagnant, which means that on a highly competitive market like ours, work gets easily undervalued and thus underpaid.
In my opinion, the best way to avoid this situation is by offering clients significant added value, but, in order to be able to do that, we must reinvent the way we think about what we do and reassess the services we offer clients.
How do you see the lines blending between PR, social media and advertising today?
The main thing we all have in common is that we are driven by people's preferences, choices and actions. In the age of an Internet of (All) Things, the consumer has come to expect that everything he needs, from physical products to mere information, be made available to him easier, better, faster. None of these communication instruments can deliver all these characteristics alone, meaning there is no other way forward than through symbiosis. Collaborative work is the future for all of us, with the difference being on the specific expertise taking the project lead, depending on the objective.
How of an important role are still having the consultancy and the strategy?
We've seen a more open demand for consultancy and strategy than ever before. Companies have started to realize that, while a trial and error approach may be healthy, it is also expensive, both in terms of money and time. Thus, they reorient themselves to pay for knowledge, professional experience and an educated intuition. The future for those developing these assets is a bright one and we, an agency, are certainly gearing up to make sure we can call this competitive advantage our own in the future.