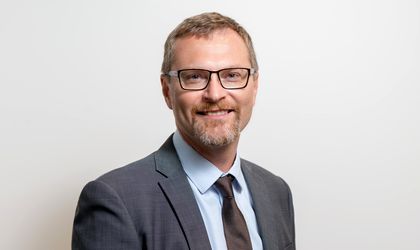 Electricity 4.0, a convergence of digital and electric, leading to a more efficient, sustainable, and resilient New Electric World, is going to change the future of electricity and at the forefront of this revolution is Schneider Electric, the leader in digital transformation of energy management and automation. To find out more about this subject, BR talked to Petr Hermann, Cluster President South East Europe at Schneider Electric, who leads the company's operations in Hungary, Romania, Moldavia, Bulgaria, Greece, Albania, North Macedonia, Kosovo, Serbia, Montenegro, Bosnia and Herzegovina, Croatia, Slovenia, Cyprus.
What is Electricity 4.0?
Electricity 4.0 is the convergence of electric and digital at scale. It is the fastest route to cleaner, smarter, more efficient energy.
Whilst many people are familiar with Industry 4.0, we set out to explain that over the last 250 years, the world has in fact gone through 4 technology-driven revolutions, impacting simultaneously the worlds of industry and electricity.
We need to start by re-thinking our relationship with energy, which is responsible for over 80% of the world's carbon emissions. We firmly believe that the solution is a world that is more electric and more digital. At Schneider, we call this Electricity 4.0.
What are the benefits of E4.0 for customers, partners, and industry?
Electricity is the most efficient energy (proven to be 3-5 times more efficient than other sources) and it is also the best vector for decarbonization (we expect to see 6 times more electricity coming from renewables by 2040… from 6% today to 40% in the next 20 years). Our customers, partners and the wider industry look for ways to decarbonize, and Electricity 4.0 delivers measurable, sustainable outcomes with technologies that already exist today.
Digital builds a smart future. It makes the invisible visible, driving efficiency and eliminating energy waste. (More than 60% of energy produced is wasted. Efficiency is often overlooked, despite being one of the fastest ways to cut carbon emissions).
Electricity 4.0 is also future proof. Innovation today relies heavily on both electric and digital. From gadgets that make our lives better, to digital home-working, to e-mobility. And Schneider is helping drive change in the world to make our customers' and partners' operations more sustainable.
How does Electricity 4.0 connect to the Internet of Things?
IoT starts with the 'things', and we have a proud legacy of making the very best, market leading 'things'. Today, we design them as digital by default (or software defined). What were once 'boxes' are now 'smart, connected boxes' that, combined with software and services, empower users with complete visibility of their energy usage.
Add to these our life-cycle software solutions and you see end-to-end efficiency, from design and build to operate and maintain. When you put these three elements of innovation together, we believe we will be able to deliver unrivalled customer impact.
Why are we talking about it now?
Today, we are at a critical juncture.  Our latest tech innovations – including EVs – are still largely powered by the 20th century 'fuel'. Over 80% of the world's energy demand is met by fossil fuels and is distributed through outdated systems that are passive and disconnected.
As energy plays such a vital role in the climate crisis, we need to upgrade each stage of the value chain – from generation (with cleaner energy production), to distribution (with more microgrids closer to points of consumption and more access to energy), to usage (with metering and smart technology to empower users with visibility and efficiency).
How does electricity compare to other energy/power sources?
Electricity is the most efficient energy (proven to be 3-5 times more efficient than other sources) and it is also the best vector for decarbonization. It offers near 100% maximum thermal efficiency when it comes to 'useful energy'.
Electricity demand is expected to double by 2040, and the good news is that we expect to see 6 times more electricity coming from renewables in that same time frame… from 6% today to 40% in the next 20 years.
How can you be so sure that mass electrification is the answer?
Today's digital technologies exist to achieve widespread electrification. Perhaps the most obvious example of this being the shift to electric vehicles. You need only look at the market value of Tesla to see how it is rapidly disrupting the norm and helping accelerate the transition across the entire automotive industry.
What is equally important, and what electric and digital is here to solve, is smart energy measurement and waste reduction.
The technology exists to digitalize electrical distribution and make the invisible, visible. Firstly, digital technology such as metering, and monitoring enables us to see how we use our energy. Adding to this with smart devices, apps, analytics, and software allows us to go one step further and deploy energy more efficiently – and allows us to capitalize on a huge potential area for energy savings. This is perhaps where we can see the quickest wins in carbon reduction… it's far easier to save a unit of energy than it is to make one.
Are there any infrastructure/energy grid modifications required to be able to support Electricity 4.0?
The digital grid, optimized through Advanced Distributed Management Solutions (ADMS) and IT-OT platform integration, can support a 75% decarbonized power generation mix and enable proactive outage prevention.
Electricity 4.0, the combination of electric and digital, will fuel the bi-directional decentralized energy grid of the future. Consumers and companies alike will be able to generate their own clean plentiful energy through renewables and microgrids to use, store or even sell back to the market.
Investing in new energy opportunities and distributed energy resources (DERs) can improve the responsiveness, agility, and reliability of the grid as the world moves to electric vehicles and electrifies cooking and heating at pace.
As cooking, heating, personal transportation, and industry is unceasingly looking to decarbonize through electrification, the requirements of grid resilience will rise in line with the increased connectivity, digitization, and sustainability efforts. The grid must modernize to meet the needs of the New Digital World.