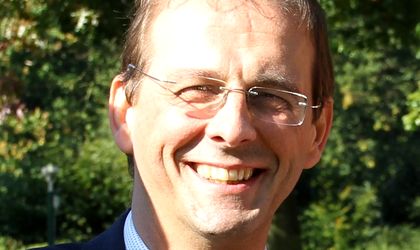 After featuring in "Covid-19 outbreak to accelerate demand for logistics and office spaces," an extensive analysis, part of the cover story of this month's Business Review print magazine, Ivan Lokere, CEO Alinso Group, sat down with BR's Anda Sebesi to talk about the latest developments of the Romanian real estate sector, more specifically the industrial and logistic parks market and the office segment, in the current context of COVID 19.
Anda Sebesi: The real estate sector in Romania is one of the most important growth engines and at the same time a significant contributor to what is competitive Romania. In which segments of this sector do you see a significant growth in the local market?
Ivan Lokere: Romania, and especially Bucharest is a very strong economic player. According to Eurostat data, Bucharest-Ilfov has a GDP per capita representing 144% of the EU average, reaching the level of Berlin or Madrid. In population, Bucharest ranks 5th among EU capitals.
The future dynamics also look very promising and this will lead to a further increase in demand for offices, residential, industrial & logistic spaces. International companies, but also Romanian companies that have become big players, are increasingly looking for quality space. Besides the traditional sectors, such are industrial, manufacturing, and services, ICT especially is in high demand, representing now almost 6% of Romania's GDP. The roll out of 5G will further support the technological leadership of Romania.
It is obvious that the demand for qualitative well-located dwellings will further increase as a result of the growth of the middle class working in the ICT sector, building families and a bigger inflow of people from all over Romania and from abroad towards the Bucharest area. In the long term, we do not expect a big net negative impact of the coronavirus crisis, as Romania has everything it needs to come out stronger of this crisis.
Anda Sebesi: You are present on the Romanian market on the segment of industrial parks (PWP Bucharest North), and at the middle of last year you also announced the company's intention to enter the office sector in Bucharest. What is the Alinso strategy on the two segments in Romania?
Ivan Lokere: We are currently analyzing several locations. We take our time to select the ideal plots for our plans, that need to respect our strict criteria.
Anda Sebesi: How do you see the development of the industrial and logistic parks and office segments in Romania, especially in the current context of COVID 19?
Ivan Lokere: Demand will grow, especially towards high quality buildings and business and industrial parks in general. Romania is well positioned to continue to attract international investments, thanks to its well trained and educated workforce, and its strategic position in Europe. Despite the short term negative effects of the COVID 19 crisis, this crisis will lead to an increase of the need for logistic space. This as a result of an accelerated adoption of e-commerce and rising inventory levels, resulting from an increased awareness of supply chain stability, following the disruptions in transport and production. This crisis will fast track the trend to diversifying manufacturing locations, reshoring and de- globalization to mitigate supply chain risks. These trend will lead to increase needs for warehousing and production facilities on its term. The reshoring will go hand in hand with robotisation and automation and Romania has strong cards to be a net winner of this trend.
For offices the current crisis will accelerate remote working, now that companies have been forced to see the advantages adapt their modus operandi. In Bucharest, the growth of the ICT sector will continue and thus demand will further increase. Especially for modern, recent offices as companies have a greater focus on health and well-being of their staff. Romania, the 6th country in the EU in terms of population, is very well positioned to attract further international investments thanks to its well trained and educated workforce and its strategic location in Europe.