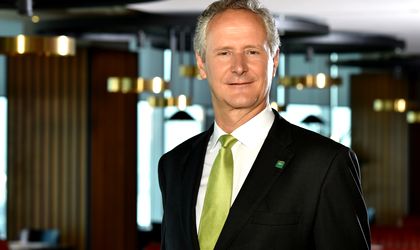 François Coste, General Director of Groupama Asigurari, highlights the way the coronavirus pandemic has challenged the local insurance market and outlines the main changes we will see in the coming period as a result of this complex crisis.
By Anda Sebesi
What impact has the pandemic had on the Romanian financial and insurance sectors?
The current pandemic has caused a lot of problems for many industries and sectors, but the local financial sector is stronger than it was in 2008. While it was the very source of the crisis 12 years ago, the financial sector can now be one of the solutions to the economic downturn, as it has sound capitalisation and liquidity rates, which may serve as solid support for all other affected sectors. The European Solvency 2 rules, which were introduced in Romania in 2016 and include a yearly assessment of risks and their impact on each company as well as stress tests to ensure that companies can tackle most shocks, have been especially helpful.
However, the economic crisis caused by the pandemic is without precedent because it is generating a double shock: one in terms of demand and the other on the supply side. As for the Romanian insurance market, the COVID-19 pandemic has affected gross subscribed premiums, with a decrease of 1.9 percent recorded for Q2 2020 compared to the same period of last year, but overall the pandemic has not had a drastic negative impact on the market.
A positive change the COVID-19 pandemic has brought on the local insurance market has been an increased awareness of the risks to which people are exposed, as they have become more concerned about health, whether their own or their loved ones', so they have started to understand the need for insurance. To this we can add the whole two months we all spent inside our homes during the lockdown, which showed each and every one of us how important our home is and how much we need to protect it. These perceptions will certainly have an impact on life and property insurance rates. However, it is impossible to pinpoint the pandemic's long-term effects on any market or sector, simply because of the level of uncertainty that we are dealing with as the health crisis is still developing. It will be years before any of us will be able to assess the real impact of this crisis.
Challenges also bring about opportunities. In your opinion, what opportunities are there for the Romanian financial sector, including insurance, during the pandemic?
In my opinion, the acceleration of digitalization is the biggest opportunity for both the Romanian financial sector and the insurance market. The financial sector in particular has made great progress in its digitalization rates, as the restrictive measures imposed by the government led to a significant increase in the use of digital financial services. The pandemic has thus opened the door to endless digital possibilities and a total transformation of the financial sector.
Digitalization also represents an opportunity for Romanian insurers. At Groupama, we already had several digitalized services, which have helped us provide clients with what they needed in a safe and fast environment.
Another opportunity for the Romanian insurance market is the increased risk awareness. I also think that we will see changes in consumer behaviour. They will demand quicker transactions and will prefer direct contact with insurance providers through apps or other digital means. Also, given the changes caused by the pandemic, new vulnerabilities that are worth an insurance have appeared, for instance those related to cybersecurity, losing business data, and so on. Starting from here, insurance companies' portfolios will diversify in the coming period to adapt to a new context.
How do you envision the future of the financial sector, considering that the current period is one of profound changes (in terms of both business and consumer behaviour)?
In the future, I see a highly digitalized financial sector that provides its clients with personalised products that respond appropriately to their needs. Moreover, as we learn from experience, the financial sector of the future will be even more robust and able to face potential challenges and crises even better. Furthermore, the insurance sector will be better prepared to deal with unforeseeable catastrophic events and react accordingly. A pandemic was probably last on our list of likely risks, but Groupama reacted immediately and was the first insurance company to cover risks associated with COVID-19.
How prepared is the Romanian financial sector to cope with these challenges and what should it do to meet its clients' ever-changing needs?
Until now, it has been a real support for other sectors in the Romanian economy and will continue to be a pillar in the country's economic recovery. Insurance companies are important contributors to the stability of the financial system, mainly because they support the continuity of individuals and companies impacted by the pandemic and also because they are major investors in the financial markets, which fund the state debt and public companies. They also safeguard the financial stability of individuals and companies by helping mitigate their risks. As consumer behaviour is fickle and changes regularly, it is important to always listen to what consumers have to say and respond with tailored offers.
How has the local market adapted to the new context? Are you seeing any consolidation on the market?
The local insurance market quickly adapted to the context created by the COVID-19 pandemic, with insurers taking measures to protect their clients and employees alike. The Romanian insurance market's results for the first half of 2020 were good, with gross premiums amounting to RON 5.6 billion in the first six months of this year, 3.4 percent above the same period of 2019, in spite of the 1.9 percent market contraction in Q2.
What we did at Groupama after the pandemic started, apart from protecting both our clients and our employees through a massive work from home programme, was to adapt our products to what our customers needed in the current context, by deciding to cover risks related to COVID-19 infections, breaking with the common practice of the global industry. Moreover, given that we had reached a high level of digitalization even before the pandemic, we were able to quickly adapt our operations without compromising on the need for social distancing or causing any inconvenience to our clients. For example, claims could be submitted and premiums could be paid online, and risk inspections for all non-life products were performed online, through an app installed on the client's phone.
How has Groupama performed in this context? Can you provide some figures posted by your company in 2020?
2020 saw Groupama keeping close to its clients, in a time of uncertainty and fear. Consequently, we managed to come up with tailored offers that responded well to our customers' needs. As such, the biggest milestone for us this year was the introduction of COVID-19 coverage into our life, health, and travel insurance policies, which increased people's trust in our ability to be there for them during difficult times. Moreover, we added domestic travel insurance to our portfolio in order to better serve our clients as domestic travel rates increased, which also enabled us to support local tourism. Groupama Asigurari also recorded a 33 percent increase in its gross subscribed premiums on the life insurance segment in the first half of the year compared to the value recorded in the same period of 2019. Last, the Groupama Group Head Office granted its subsidiary in Romania a 10-year subordinated loan of EUR 24 million. This is a prudent measure that enables us to navigate through the crisis regardless of its overall impact on the industry. With this support, we have a solvency rate of 142 percent, which allows us to continue to invest in our offers, our technology and operational processes, and our team. This demonstrates our trust in the Romanian insurance market and its potential.
What are your plans for the future in Romania?
We will continue to stay close to our clients and adapt to their needs through tailored offers and digitalized services. The next period will be governed by uncertainties for the whinole world until the health crisis is resolved, so the best leaders will be defined by two words: agility and adaptability. Business perspectives will be revived for many sectors when better treatment options are developed for the coronavirus, and especially when the vaccine appears, but that will take months to be produced and distributed globally. In the meantime, we will continue to anticipate trends and adapt to them in order to embrace our clients' needs.