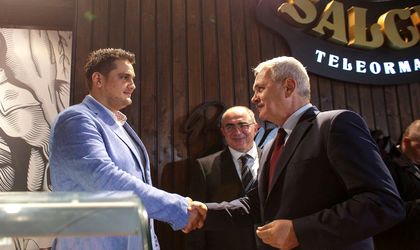 Ferma Salcia S.A., the pig farm owned by Valentin Dragnea, the son of PSD leader Liviu Dragnea, had a net loss of almost EUR 285,000 in 2017 – an amount twice as large as the company's subscribed capital, according to data provided by the Finance Ministry and analysed by Business Review.
Last year's major loss is unusual for Salcia, which had a net profit of over EUR 19,000 in 2015 and EUR 11,250 in 2016.
According to an investigation by Libertatea, Valentin Dragnea's company has been accused of failing to pay the money it owed several suppliers. Sam Dor, a company near Pitesti, has already obtained in court the foreclosure of Salcia Farm for the RON 1,577,000 it was owed.
The owner of Sam Dor told Libertatea that Dragnea's son reduced the number of live pigs in his farm and started buying meat from various abbatoirs in the country as the threat of African swine fever increased in Romania, but stopped paying his suppliers several months ago. Last year, Salcia Farm had almost 15,000 live pigs, while this year Libertatea reported that they had fewer than 3,000.
Romania is facing a major swine fever outbreak and authorities have ordered the culling of wild boars and predatory animals in several regions of the country and in areas bordering Hungary, Ukraine and the Republic of Moldova. Plants and cultures affected by these animals will have to be neutralized as well.
The virus that causes the African swine fever is harmless for people and other animals, but it is deadly in most cases for all boars and farm swine. There is no vaccine yet for the disease and infected animals usually die within ten days.