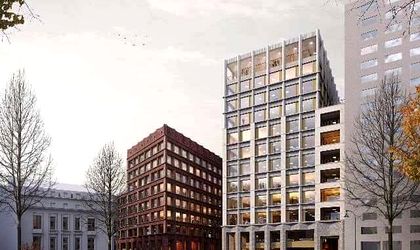 Romanian developer Forte Partners, who sold office project The Bridge to Dedeman last summer for around EUR 200 million, will develop an EUR 25 million new office building, named Millo Building, on a 1,700 sqm land plot bought from Telekom last year, located between Ion Campineanu and Matei Millo streets.
The building will have ten stories and its architecture won't have curtain walls, instead it will follow the classic New York style. The project will not be too tall or too large, it will respect its surroundings and have a footprint of around 1,000 sqm.
According to BR sources, the building might become the headquarters of one or two companies as a trophy property in the city center.
The initial announcement about the transaction indicated the building's area will be around 9,000 sqm.
The purchase price for the land plot was not announced, but on the basis of the offers in the area, it can be estimated at about EUR 2.5 million.
"We believe in office developments in central and ultra-central areas and we rely on architecture, ergonomics, optimization and design thinking. The city center does not have a relevant class A office offer. We have a reputable history of architecture quality and the ability to integrate development into urban fabric but also the power to make non-speculative developments for which there are already concrete plans with our customers," said Geo Margescu, founder of Forte Partners after the transaction.
The land is located in a historical area of ​​the capital, in the immediate vicinity of the Palace of Telephones, the first high building in Bucharest to be built on a metallic structure. On the same segment of Calea Victoriei, we find the Capsa Hotel, the Military Circle built by Carol I, the recently restored Grand Hotel du Boulevard and other buildings of historical and architectural value.