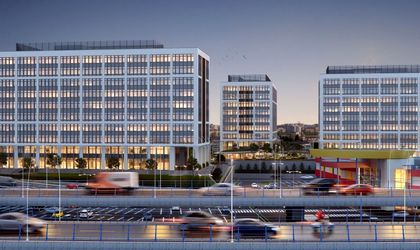 Banca Comerciala Romana (BCR), a member of Erste Group, has announced that it would move its Romanian headquarters in 2020 to a 14,000 sqm space in Business Garden Bucharest, which will make it the largest tenant of the second project owned by Vastint Romania. The project has been delivered and already has an occupancy rate of 65 percent. 
The Business Garden Bucharest office complex is LEED Platinum pre-certified and is the first project with such a green concept in Romania and the sixth in a series of the same name developed by Vastint in several cities in Europe. The project comes with a unique setup and attention to detail not only in the office areas, but also in the outdoor area, with a focus on creating a pleasant work environment. 
BCR will relocate 1,000 employees operating in its existing HQ on Calea Victoriei. 
"With its modern design and sustainable approach, Business Garden Bucharest was the right choice for us, as we are continuing the consolidation process of our central operations started with the relocation to The Bridge. The vast green areas with pedestrian alleys and recreational activities, combined with the diverse offer of services and facilities from Vastint and the proximity to our other HQ were the main factors that convinced us to choose Business Garden Bucharest as the best option for our 1,000 colleagues who will move there next year," said Elke Meier, the CFO of BCR. 
Business Garden Bucharest is located in the city's centre-west business district, at the junction of Calea Plevnei and the Basarab overpass, near the Carrefour Orhideea Shopping Gallery, and includes three class A office buildings with a total leasable area of almost 43,000 sqm, with public and commercial services available on the ground floor. The buildings are surrounded by an interior garden that covers 30 percent of the total area, providing pedestrian walkways with benches and Wi-Fi facilities for recreational activities. Business Garden Bucharest has a spacious parking that also includes bike parking, lockers and showers for the cyclists. 
"Business Garden Bucharest is the first of its type that we deliver in Romania, a high-quality working environment with great accent on the surrounding landscape and mix of facilities, and we are very pleased that BCR has decided to join our community. Working upon the ideal tenant mix, BCR is the perfect match, with a tech-oriented vision and great care for the employees. Business Garden Bucharest comes with an abundance of amenities in the area – such as highly convenient public transport connection, educational centers, hospitals, shopping centers," added Antoniu Panait, the Managing Director of Vastint Romania.