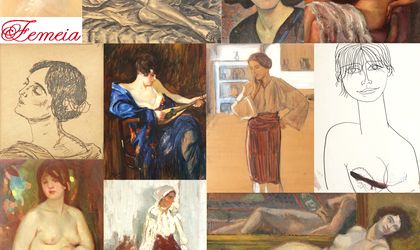 The upcoming Artmark spring auction brings the Romanian art lovers the occasion to enjoy an authentic tribute to womanhood as the world celebrated Woman's Day on March 8th. A wide range of over 200 paintings and graphic works from the nineteenth century to Postmodernism signed by Tonitza, Grigorescu, Ressu, Mutzner or Iser and a series of portraits and female nudes will be first exhibited for two weeks starting with March 10, between 11.00 and 21.00 at the Cesianu-Racovitza Palace. It is also the most valuable public auction held to date by Artmark, with the maximum value of the lots standing at EUR 2.000.000.
 Four out of the eight works of Tonitza included in the Spring Artmark auction depict portraits of women.  The most impressive is "Nude back" (oil on cardboard, 69.5 x 49.5 cm, EUR 70,000 to 120,000) whose model is assumed to be Irene, Tonitza's daughter. The painting comes from an important Bucharest private collection.
A lovely feminine face, suggestive for a certain typology is portrayed by Stefan Luchian in "Little girl with yellow shawl" (pastel on paper, 44 x 39.5 cm, EUR 35,000 to 65,000) which comes from aIasi private collection.
Theodor Pallady, another master of Romanian painting, signs "Intimacy", a sensual indoor nude (oil on cardboard, 58.5 x 97 cm, EUR 45,000 to 75,000) coming from a Iasi private collection.
Collectors and art enthusiasts can visit the auction exhibition between 9.00 and 19.00  at the JW Marriott Grand Hotel, on March 20. The Spring Auction will be held Tuesday, March 20, 2012, the JW Marriott Grand Hotel Grand Ballroom, starting at 19.00. More details on www.artmark.ro
  Dana Niculescu