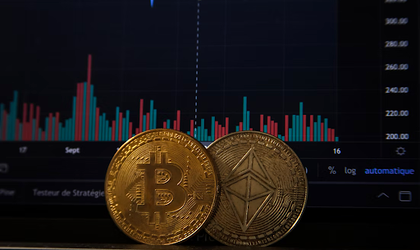 Cryptocurrency is an exciting digital asset that has gained significant traction in recent years. From Bitcoin to Ethereum, these virtual currencies have the potential to transform how we handle money and interact with each other financially – both online and in person. Now more than ever, people are turning to the cryptocurrency space for a secure means of transferring money, making payments, and investing their money. In this blog post, we will delve into why cryptocurrency is quickly becoming one of the hottest topics in finance today and discuss its possible applications for streamlining our financial systems as we continue on into a digitally-enabled future. So if you are ready to understand why cryptocurrency could be the future of finance, read on!
Cryptocurrencies Are Decentralized
Cryptocurrencies are revolutionary in their ability to unify the public and offer an alternative to centralized banking systems. That means that governments and even banks can't directly control their production or access. This process of removing any single point of control has many advantages as it allows more security from intentional interference. The decentralized nature of cryptocurrencies makes them much less likely to be subject to censorship, fraud, or general instability. The fact that it takes a global network to access data gives people the freedom to transact with no fear of interference or excessive fees. While there are still concerns in terms of the intrinsic value of certain cryptocurrencies and the technology's long-term survivability, its decentralization is becoming increasingly accepted as a benefit that largely overshadows these drawbacks.
They Can Be Used Anonymously
Bitcoin is an increasingly popular form of cryptocurrency that can be used for secure monetary transactions, and one of its great advantages is the fact that it can be used anonymously. When using a credit card or Paypal, there are usually deep trails indicating who paid whom, as well as a lot of personal information at risk. But when you use bitcoin, it's much more secure and you don't necessarily have to reveal any sensitive data. This could be particularly beneficial for retailers and consumers who want to hide information but still remain in business. It might also give people the freedom to buy things they wouldn't normally purchase due to stigmas and judgments associated with those items. Whatever your reason for wanting anonymity and security, bitcoin has you covered.
Cryptocurrencies Are Accessible to Everyone
Cryptocurrencies have provided a promising new asset class to the financial markets, making a formerly exclusive realm of investments accessible to everyone. Whereas in the past, investing in stocks and bonds was limited to the few people with ample resources, cryptocurrencies have made it so anybody can explore and experiment with this lucrative world. With the advent of digital wallets and exchanges that are easy to use, anyone can buy and trade any number of popular virtual currencies – all without needing lots of capital or a thorough understanding of investing. And by following the latest news and reviews from Bitcoin Codes and other reputable sources, novice investors can stay up to date on market developments and trends. With cryptocurrency investing becoming more commonplace, everyone can enjoy the rewards that come with taking risks in the marketplace.
Transaction Fees Are Lower
Transaction fees, often a large and annoying expense for everyday shoppers can be much lower than people anticipate. Thanks to new payment technologies, a range of services now allows merchants to reduce the overhead charges associated with credit and debit cards. This often results in cheaper prices for consumers, enabling them to purchase goods without worrying about high commission costs. Modern transaction fee systems are designed with convenience in mind, making it easier for customers to make payments without sacrificing their hard-earned money. Many businesses have successfully incorporated these money-saving technologies into their daily operations, improving customer satisfaction and loyalty while at the same time increasing profitability. For shoppers looking to save money on the items they buy or the products, they order online, lower transaction fees should be taken into consideration when deciding where to spend their hard-earned money.
Cryptocurrencies Are Immutable and Secure
Cryptocurrency transactions are known for their immutability and security. Unlike traditional currency systems, there is no need to rely on any third-party banker or administrator for cryptocurrency transactions. From the start, all of these digital coins were designed to be immutable, meaning that once a transaction is confirmed it can never be reversed or tampered with in any way. Furthermore, logging into each wallet typically requires multi-signature authentication technology that adds an extra layer of safety and protection to ensure users' funds remain secure. While cryptocurrencies may still seem new and a bit mysterious to some, they are becoming more mainstream every day – appealing due to the encrypted security features offered by these digital payment networks.
Transactions are Fast
Speed and convenience have become the main feature that customers look for in any kind of transaction. Gone are the days when business transactions took days, even weeks to complete. Now, businesses of all sizes rely on fast transactions that can be completed accurately and securely in a matter of minutes. Modern technology allows buyers and sellers to move money quickly throughout the world thanks to streamlined financial systems, giving both parties an advantage in reaching agreements more efficiently and with greater accuracy than ever before. As this process absorbs more of the attention of businesses large and small, customers are reaping dividends from having access to faster services ranging from bank transfers to eCommerce payments – allowing them to make quick moves on investments and other capital decisions in ever-more competitive markets.
Enabling Programmable Money
Programmable money has the potential to revolutionize the way we utilize currency by enabling cryptocurrency transactions to be used on a wide scale. This could make money-based transactions not just faster and more secure, but also customizable to fit the unique goals of a project or enterprise. Businesses and individuals alike may take advantage of this programmable money by using cryptocurrency as a means of portability and payment options that are suited to their own needs. Enabling programmable money can open up new opportunities for a large number of industries which will surely bring about large-scale changes in the world economy.
All in all, cryptocurrencies offer a wide range of benefits and possibilities, making them extremely powerful and desirable assets. For individuals and corporations alike they offer increased freedom, privacy, financial control, and access to opportunities that weren't available before. As cryptocurrencies continue to evolve, it is becoming clear that this technology is here to stay, creating incredible new potential for transforming the financial markets as we know it. Many advantages come with using digital currencies like Bitcoin or Ethereum and third-party services, such as exchanges or Blockchain analytics tools are quickly catching up with the landscape. As the innovation continues to grow it's clear that cryptocurrency isn't just here to stay; it is evolving at an incredible pace!