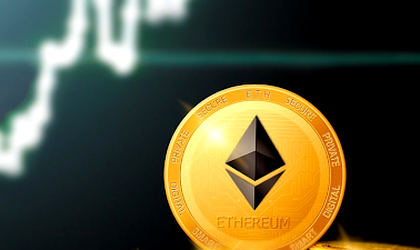 Ethereum is the second-largest cryptocurrency by market capitalization right after Bitcoin in the market. The founders claim that Ethereum is a decentralized financial system built on blockchain, not just a medium of exchanging or storing value on the Internet. The article below will provide basic information about Ethereum and the difference between Ethereum and Bitcoin. We hope this is valuable information for your Ether fund.
What is Ethereum?
Ethereum is a blockchain distributed computing platform running on Blockchain technology through Smart Contract. Ethereum can perform peer-to-peer network transactions and contracts through the token Ether (ETH). 
Ethereum was introduced in late 2013 by Vitalik Buterin to create a coin that overcomes the shortcomings of Bitcoin. Ethereum is also considered a helpful application platform and creates its own distributed financial ecosystem. The capitalization of ETH has reached 25 million USD in the first sale.
According to the development roadmap, Ethereum will go through four critical stages, including:
Frontier
Homestead
Metropolis
Ethereum 2.0
Currently, Ethereum is preparing to enter phase 4.
How does Ethereum work?
Ethereum is built on a blockchain with a public and decentralized nature. Every transaction on the system is public, verified, and recorded. No one has the right to modify the information recorded on the ledger (blockchain).
Publicity, transparency: everyone has a copy of the ledger and has the right to see all the transactions taking place on the system.
Decentralized Finance: Ethereum is not managed or operated by an organization/individual. All users participating in the system have peer rights.
Safety and security: Transactions on the blockchain use cryptography to keep the network safe and secure.
Verify transactions on Ethereum: users "mining" with a computer or solve complex mathematical equations and add new blocks to the Ethereum blockchain. Participants who verify transactions are rewarded with Ethereum tokens. The Ethereum token is named Ether (ETH).
Lending, borrowing, trading (though DEXs – decentralized exchanges): Users use Ether to lend, borrow, and trade goods and services.
Is Ether the Same as Ethereum?
Ether (ETH) is the name of the cryptocurrency used in the Ethereum blockchain. Users use ETH to exchange, trade, invest, or store assets. Users can buy ETH on most crypto exchanges like Coinbase, Binance, and Kraken. To buy ETH, you need to deposit cash (e.g. US dollars) into a crypto exchange via a bank link or a debit card.
Ethereum is a blockchain network for users to hold or exchange ETH. However, in addition to the ETH trading function, Ethereum has many other parts.

Data storage: Users can use Ethereum to store data through decentralized applications. Data is understood as personal information or complex financial transactions.
Smart contract feature: With Ethereum, there is no central authority to manage everything on this blockchain network. The trading parties themselves make agreements on the purchase/sale, exchange of goods and services with the terms published on the smart contract. 
Transactions are automatically performed by the system, transferring ETH to the recipient when the conditions in the contract are fulfilled. Transaction parties do not need the involvement of an intermediary third party like conventional contracts.
Ethereum vs. Bitcoin
Bitcoin is a digital currency born with the mission of being a store of value, an alternative to traditional currencies. Ether is also a digital currency with the ability to store value. However, the decentralized Ethereum network is extended with other features such as creating and running applications, smart contracts, and other transactions.
Ethereum blockchain is considered to have a faster transaction processing speed than Bitcoin blockchain.
Bitcoin announced the issuance limit of 21 million BTC. Ethereum has no ETH limit.
Ethereum works with more extended functions, which can lead to the risk of system failure, system crashes, and hacking. The more features a system has, the more likely it is to experience security vulnerabilities.
Is Ethereum a good investment?
Some reasons why you should consider investing in Ethereum are:
Ether is the second-largest cryptocurrency by market capitalization in the world.
Ethereum is a reputable blockchain network. It was launched in 2015 and is still evolving.
Ethereum is currently building an upgraded version of Ethereum 2.0 with more scalability and faster transaction processing, safer and more environmentally friendly.
Ethereum's Scaling Potential: Unlike other cryptocurrencies that only use blockchain to record transactions, Ethereum develops a network that helps developers create decentralized applications. It is the platform to build a DeFi decentralized financial system, which provides safe and transparent financial services without third-party intermediaries. In addition to dApps, Ethereum also offers non-fungible tokens (NFTs) – digital assets that people buy and sell as collectibles.
The financial takeaway
Ethereum has a team of reputable creators and developers in the crypto community. ETH has also maintained its position as the second largest in the market for many years. There are more than 3000 dApps on the cryptocurrency market today developed on 16 major blockchain systems. Among them are more than 2800 dApps developed on the Ethereum network. Over 100,000 daily active users.
However, the transaction fee that helps the system to maintain operation is quite high, more expensive than before, and many other systems. Ethereum is also facing competitors like Solana, Cardano that offer similar services.
The volatility and unpredictability of the cryptocurrency market, in general, is also a factor that you need to consider carefully. If you choose the right time to buy/sell cryptocurrencies, you can make quite a profit. But you also have to accept the risk of losing your crypto investment due to sudden market fluctuations.
Therefore, for long-term investment, ETH is a coin that you should consider. If you pursue a short-term investment strategy, this is not the best option.
The conclusion
There are many cryptocurrency platforms on the market and thousands of different cryptocurrencies. Choosing the right platform and currency to invest in requires you to spend a lot of time researching and evaluating. 
Ethereum 2.0 is expected to be completed and applied in 2022. This makes investors pay more attention to ETH than ever before. Ethereum upgrade could significantly increase the price of Ethereum. We hope this informative article about Ethereum has given you an overview of the coin. Good luck with your investment decision.