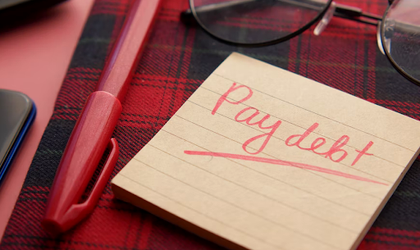 Debt can seem inescapable at times. If you are struggling to get out from underneath the weight of your debt, then it's important for you to know that you do have options. There are a number of highly effective ways of escaping from one's debt, regardless of its size. One is declaring bankruptcy, although for a lot of people this isn't an option, because it can have serious implications on one's credit score. This post will cover bankruptcy and more, explaining how you can get out of debt fast and effectively:
Debt Consolidation
A source of debt for a lot of people is loans. The most common type of loan that's taken out by people (and then defaulted on), is the payday loan. Most payday loans are very accessible, even to people that don't earn a lot of money. One can eliminate payday loans by consolidating one's debt. Debt consolidation is the process of taking out a large loan, to pay off other loans that have been taken out. If you are interested in debt consolidation, then you will be pleased to know that it's not just available for payday loans. You can consolidate more or less any kind of debt, as long as it's large enough. The best part about debt consolidation is that it's a very cheap way of paying off your debts because the interest that's added is not very high.
Bankruptcy
If your debts are too much for you and there's no way that you can pay them all off, then bankruptcy is an option that's worth considering. The process of bankruptcy is relatively straightforward. It can be used to clear off any debt. You do need to bear in mind before declaring bankruptcy that it can have devastating consequences for your credit score and your finances. If you declare bankruptcy, then you won't be able to take out loans, credit cards, and mortgages for at least six years. You may also have to sell your possessions, like your home, car, and other things.
Repayment Plans
If you are in debt, then the best way of getting out of it without entering into debt consolidation proceedings or declaring bankruptcy is to set up a repayment plan with the debtor. Most debtors are happy to set up repayment plans, usually because interest accumulates over the course of these plans, earning them more money. Despite the added interest, a repayment plan can help you to pay off your debt more manageable. If you are going to enter into a repayment plan with a debtor, make sure that you calculate the added interest, and how much extra you will be paying long-term.
Added Interest
On the topic of interest, it's important to remember that if you miss payments, then your debtors are able to add interest on top of your existing debts, charging you more for each missed payment. This is a very common tactic and something that you need to be aware of. Debtors do this so that they can squeeze more money out of you. If you can't make a payment to your debtors, then make sure that you call them and tell them this, so that you can avoid the interest. Interested is usually added when a payment is missed or when a direct debit bounces back.
Second Job
A good way of getting out of debt is to get a second job. A lot of people do this, and it works quite effectively. All that you need to do is to get a second job, and then work it exclusively so that you can pay off your debts. Any money that you make from the job, you need to commit to repaying your debts. You can take a night job or a weekend job. If you work full-time during the week, then a weekend job is probably a better option than a night job, otherwise, you may be too exhausted to perform at work.
Budgeting
Lastly, make sure that you budget. In order to budget, calculate all of your expenses, and then work out what can go. If you have online banking, then it's highly probable that your banking app has a budgeting feature that you can use. If it does not, then you may be able to contact your bank and ask them to help you out. Most banks have financial planners that can work with their customers in order to help them to save money.
If you are in debt, then you need to do everything that you can to get out of it. Staying in debt can result in interest being added, and you losing money. Addressing your debt quickly and effectively will help you to save money long-term.