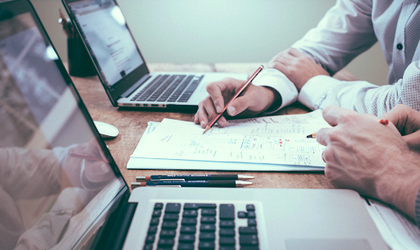 According to the IMF, the COVID-19 pandemic could spur the worst economic downtrend since the Great Depression. At the start of the pandemic, hundreds of thousands of businesses in Europe were forced to close their doors temporarily. Thanks to the disruption of the pandemic, many were never able to reopen. Survey results also state that 50% of Europe's SMBs are at risk of bankruptcy during 2021 if revenues do not pick up.
However, some businesses have been able to weather the COVID-19 storm successfully.
To do this, many organizations are turning to financing solutions. One ever-popular option is factoring.
Factoring's popularity has been boosted significantly by the unstable economic conditions.
Are you considering factoring to remedy your organization's cash flow? If so, it's important you know about COVID-19's effect on factoring's popularity and whether it is a sustainable solution for your needs.
Continue reading as we take a look at the changes in factoring that have taken place.
The Effect of the COVID-19 Pandemic on Factoring's Popularity
As mentioned above, many businesses have been hit hard by the economic effects of the COVID-19 pandemic. The impacts have been far-reaching, disrupting almost all sectors.
As a result, many operations have been utilizing financing solutions to ease cash flow restrictions.
Factoring has been a staple cash flow financing option across many industries for millennia. How factoring works has also rendered it a go-to solution during the pandemic. The principle of increasing cash flow based on current assets has made factoring a prime fit for pandemic-spurred business conditions.
In short, the disruption from COVID-19 has only but heightened factoring's popularity.
The Effect of COVID-19 on Open Account Firms
Although COVID-19 has sparked a strong increase in factoring's popularity, it hasn't been plain sailing for open account firms. Pandemic-related disruption has impacted their day-to-day operations. What's more, the increased demand for factoring coupled with the unstable climate has challenged many open account firms.
Increased demand for factoring solutions is good for the open account financing sector. However, there is another side to the coin.
As businesses and individuals face economic pressure from all sides, many debtors are less able to meet their accounts. This has resulted in increased pressure on factors.
Simply put, if factors do not have the resources to manage longer payment periods and less responsive debtors, they could easily flounder. In the long run, this affects their clients, who face a trickle-down effect of higher factoring expenses and less competitive solutions.
Fortunately, while not all factors have been able to handle the current conditions—many well-established open account firms are able to continue operations as usual without detrimental changes in their offerings.
Is Factoring a Pandemic-Proof Financing Solution?
As mentioned above, factoring's benefits make it an attractive cash flow financing option. Businesses can receive near-instant cash inputs, and outsource account collection efforts.
At the same time, factoring can be an ideal solution for pandemic-related cash flow conditions. Deloitte's recent COVID-19 report has recommended debtor financing and asset-based lending as levers to release pressure from working capital.
However, there are some key considerations business owners should take into account. For one, business owners should only seek asset-based lending for cash flow smoothing. It should not be used to plug cashflow gaps.
If this is done, it can lead to exacerbated working capital issues down the line.
Another important consideration is the factoring provider. As mentioned above, open account firms have been under increased pressure. If you choose the wrong company, you might run into issues with your invoice factoring.
Things like hidden fees, credit chargebacks, and recourse factoring practices can all land your business with more cash flow problems than it had before.
Finding Sustainable Factoring Solutions for Your Operations
So, how does one find a sustainable and trustworthy factoring company?
The first thing you must do is look for a factoring provider that fits your requirements. Here are some of the things you should look for:
Non-recourse factoring
Single factoring fees
An absence of hidden fees
Streamlined onboarding
A high up-front percentage of the invoice value
Personal debt collection
All of the above points are important, so make sure to do your due diligence and find a provider that ticks all of these boxes. For a start, in this economic climate, you should avoid recourse factoring.
Why? Because recourse factoring puts your business at risk. If you take out recourse factoring, the factor can claim unpaid invoices back from you.
This means that if a debtor does not pay, they can then claim these amounts from you. If you have already used the cash from your invoice factoring for operations, this can land you in trouble.
Most businesses seek invoice financing because they need cash flow fast. Having to keep some of this back to meet unpaid invoices defeats this purpose.
Along with quick onboarding, and clear-cut fees, you should also vet for personal debt collection. Don't forget, when you hand over your invoices to a factor; you are also handing over your client's accounts.
If you go with a factor who mishandles these accounts, this can hurt your customer relationships. It can also impact your business reputation.
Lastly, ensure the factoring company you choose has an established track record. They should also be able to pay a high percentage of your invoices upfront.
How factoring works is that you receive a certain percentage upfront. The remainder is paid to you when your customer pays the factor. This can take some time.
The last thing you want is to wait around for factor payments more than you need to.
Look for Reliability
Thanks to pandemic-related business disruption, factoring's popularity have grown more than ever.
However, before you look to the first factor you find for cash flow solutions, make sure you vet out your provider carefully.
Not all factoring solutions put the seller first. Ensure you go with an invoice financing company that offers full liability protection without hidden fees.