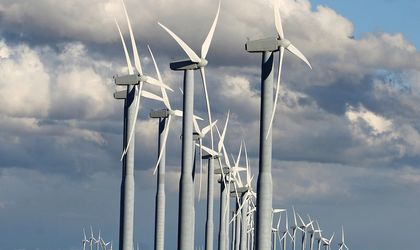 The Romanian Parliament wants to bring new changes to the Fiscal Code to include wind turbine buildings and towers as building categories, according to a bill supported by the Ministry of Finance. This way, local authorities will be able to impose taxes on such constructions.
The draft law is practically a new version of the controversial special constructions tax known as the pole tax, which was eliminated in 2017 after it was initiated by the current ruling party. The change was also supported by the Ministry of Finance.
Currently, the local taxes section of the Fiscal Code establishes that a building represents any construction situated above and/or below the ground, regardless of its designation or use, and has one or more rooms which can serve to shelter people, animals, objects, products, materials, installations, equipment and the like, and its basic structural elements are the walls and the roof, regardless of the materials they are made of.
The new bill proposes to add the statement: "wind turbine propulsion towers are also included in the buildings category."
The proponents point out that the new Fiscal Code, approved in 2015, has created blurring in the field and it is necessary to revert to the old code that frames wind turbine support towers as buildings on which the local public administration authorities could impose local taxes and duties. The draft law was adopted by senators in late April and will be voted by the Chamber of Deputies, Parliament's decision-making body, after the parliamentary vacation.
The Government sent the elected representatives some recommendations of legislative technique before the parliamentary holiday and added that such a bill will cover the vision of local tax and taxation in the forthcoming Local Finance Code.