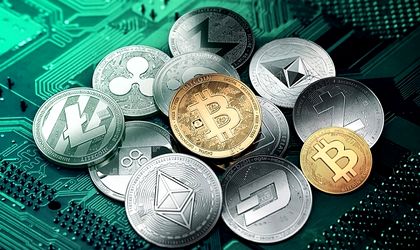 The potential of cryptocurrency to increase speed and reduce the cost of business is threatened by theft, poor security and criminal activity, according to an analysis of Alex Milcev, EY  Romania's leader of the Department for Tax and Legal Assistance.
Cryptocurrency have the ability to change financial services positively by increasing speed and reducing business costs, and coordinated international regulatory action is needed to ensure that these new currencies do not allow criminal activity and tax evasion.
As the development of cryptocurrency markets is accelerating, there is also an urgent need for regulation of these crypto-active agents. Many assume that the security of the blockchain technology and the almost inviolable public register underlying the cryptocurrency ensure their security. But checking on the enforcement of regulations will not be easy, he explains.
Many argue that the dramatic fluctuations in their value make these virtual coins more like commodities than coins. Regulatory bodies are puzzled by the non-traditional framework in which they operate and all over the world are seeing discrepancies in their solidity and use.
Establishing a balance between security, transparency and innovation
Governments and industry are eager to ensure that regulation does not restrict innovation that could unlock the potential of crypto assets. We already see interesting developments, for example, the Kenya BitPesa startup – a Bitcoin money transfer service that integrates with Kenya's M-Pesa mobile money transfer system to reduce the difficulty and commissions of transactions.
In trade finance, Distributed Registry Technology (TRD) underlying cryptocurrency may allow documentary evidence to be attached directly to financial transactions, thereby reducing the risk of human error or operation.
But the risks of virtual coins must be resolved before they reach their potential. Many of these risks are related to the anonymity of cryptocurrency. Although the path of a cryptocurrency on the open and decentralized and open distribution network of the registry is transparent, not the same can be said about the current property of the token and what it was used for.
Anonymity is incompatible with current laws and global regulatory trends and that calls for more transparency to prevent money laundering, tax avoidance and other criminal activities. If governments can not see a transaction, they can not identify the avoided taxes.
Anonymous character also puts major financial institutions in a difficult situation. New laws tightening liability rules for large companies, such as banks and accounting firms, could impact the availability of financial institutions to accept or transfer virtual coins.
The EU and UK Money Laundering Prevention Directives and the Criminal Finance Act require financial institutions to ensure that they do not carry out any transaction related to criminal activities. Even the "non-confirmation" that charges were paid on cryptocurrencies transferred to a bank could be considered as a facilitation of criminal activity.
The 5th Anti-Money Laundering Directive, published in July 2018, is a first regulatory step. The Directive defines for the first time the virtual currency as a virtual representation of the value that is not issued or guaranteed by a central bank or public authority is not necessarily attached to a legally established currency and does not possess a legal status of currency or money.
It is accepted by natural or legal persons as a means of exchange and can be transferred, stored and transacted electronically. In addition, the application of the Directive has been extended to providers of electronic wallets and exchange services between virtual and fiat (traditional) coins. As a result, they will be required to implement Know Your Client processes, permanently monitor customer relationships, and report any suspect activity to government entities.
The call for a consistent global approach
The current lack of an international consensus on cryptocurrency (or cryptoassets) governance perpetuates differences, increases opportunities for regulatory evasion and runs counter to common reporting standards, the FATCA and intergovernmental data exchange.
A consistent global approach to virtual coins regulation is needed, using new methods tailored to this new financial instrument.
This is essentially the digital currency today. As far as the benefits are concerned, an MDBC would be much superior to alternative digital coins (MDAs), such as Bitcoin. MDAs do not work well as a stock repository: prices are too volatile, protection against illegal access is too weak, and support is non-existent.
By comparison, the central bank's currency is the core deposit. TRD is the current key competitive advantage that MDAs have and is something the central banks can and will buy. Research by EY and Cambridge University shows that 63 percent of central banks and 69 percent of other public sector institutions (AISP) are experiencing TRD protocols.