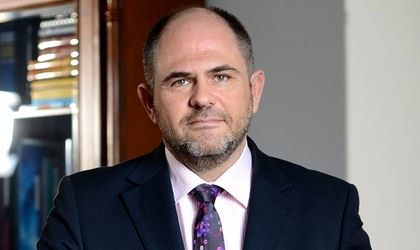 Interest rates for the Romanian currency will have a higher volatility in the coming period, while the exchange rate of RON will stay the same as long as the rise of inflation is tempered, said Sergiu Oprescu, president of the Romanian Banking Association (ARB) and CEO at Alpha Bank, according to Agerpres.
"We have to look at history to see how variable this interest rate have been. Let's not forget that a few years ago it was around 4 percent, in 2012 it was 6 percent, almost 7 percent. Back then we had EUR 49 billion of non-governmental credit in the banking system, with 55 percent of loans indexed to the euro, while today we have a 63-64 percent of loans indexed in RON. There are loans originated in 2016 when the basic interest was around 1 percent and remember that, in the same year, we at ARB said that we must be careful how we build the credit portfolios at historically low interest rates.

I expect the volatility to be higher, and when I say this, I mean the mathematical formula focused on a certain time frame for a variation of a series of data compared to the variation of the other data series that is the base interest rate to the euro," said Oprescu at ZF Bankers Summit.
In the view of ARB President, fixed-interest loans from the banking system in Romania are now at about 27 percent from total loans
"The banking system slowly began to credit in fixed interest one and a half years from the time when the total loans at fixed interest rate were about 10 percent from total. So we almost tripled our fixed interest product over that period. Of course we want more, but for that to happen you have to have all the mechanisms in the market, that is, you have to get a certain return on government bonds," said Oprescu.
He added that, in one form or another, clients debt level as a percentage in income is rising, meaning that they will reimburse more of their monthly income when the risk of interest rate or currency rate fluctuation materializes.
"Normally, you have to make an assessment and it's all about the degree of indebtedness. The reality is that no one knows how the future will look. The impact of giving in payment law is already taken into account and assumed. Besides, we are talking about three other initiatives that are currently, namely: limiting the level of interest rates, limiting the amount that a buyer of non-performing receivables can obtain, and enforceable title for loan contracts. The impact of legislation limiting interest rates, those legislative initiatives, will be first and foremost on the number of customers who qualify," said Oprescu, adding that there will be limitation in the number of eligible clients for banking loans and that not all the people that before could access a credit it be able to after the laws are in place.