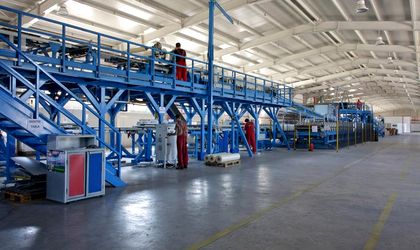 TeraPlast, one of the largest manufacturers of building materials and the largest rigid PVC recycler in Romania, approves dividends amounting to RON 12.5 million from TeraSteel, the Group's subsidiary for thermal insulation panels and galvanized structural profiles. In this respect, within the meeting held on 29.11.2018, the board of directors has appointed Alexandru Stanean, TeraPlast Group's CEO, to vote for this decision within the TeraSteel general meeting of December 2018.
Based on the remarkable financial results recorded during the first nine months of the current year, TeraSteel will be able to grant dividends amounting to RON 12.5 million, which will be shared to the shareholders. The majority shareholder of TeraSteel SA is TeraPlast SA, with 97.95 percent equity participation.
TeraSteel Romania has recorded from January to September 2018 a 43 percent turnover growth, in the context of maintaining the profitability. The Steel division of the TeraPlast Group, composed of TeraSteel Serbia, TeraSteel Romania and Depaco, has generated income of over RON 350 million during the first nine months of 2018, more than three times the amount of last year's reference period. Moreover, the division's EBITDA has exceeded twice the amount of January-September 2017, reaching RON 31.7 million (+120 percent).
TeraSteel has granted RON 21 million worth of dividends in 2018.
"Considering the new regulations, TeraPlast SA can register this amount as additional profit and will be able to distribute it to its shareholders. Thus, TeraPlast SA's shareholders will be able to benefit from the profit achieved by the Group's subsidiaries during the tax year 2018, following the General Meeting to be held on April 2019. Although it has not developed a formal dividend policy yet, TeraPlast has been offering a stable dividend scheme ever since 2016", said Dorel Goia, chairman of the TeraPlast Board of Directors.
Based on the constant investment, product diversification and external market sales – that are currently over 40 percnt of the total production -, the upward trend of the Steel Division is going to continue in the following period.