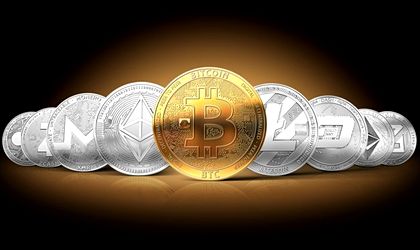 Romanians are very familiar with the term cryptocoins, with one in 10 Romanians holding cryptocoins, and 33 percent of them want to buy, according to a study by a global platform that allows cryptomonas trading. The study was conducted most probably through the internet, so the respondents are those who have an internet connection.
According to a recent research conducted for Luno, a global platform that allows for cryptocoins trading, 97 percent of all Romanian respondents said they were either familiar (58 percent) or heard (39 percent) about the cryptocoins concept, while 9 percent of the total, representing one in ten Romanians, already own a cryptocurrency. The survey for Luno shows that two-thirds of respondents familiar with cryptocoins, but not currently own one said they were interested in buying cryptocoins in the future. 72 percent of respondents mentioned Bitcoin and Ethereum (29 percent) and Ripple (14 percent).
"The results of the research demonstrate once again that Romanians have a high degree of digital literacy and unlimited enthusiasm towards new technologies and innovation. The preference for Bitcoin is evident in the case of the Romanians, becoming synonym for digital coins, with a share of almost two thirds of market," said Magdalena Gołębiewska, country manager at Luno.
Most Romanians buy cryptocoins because they value them as an investment (68 percent) or an online payment instrument (23 percent). A smaller number of respondents use cryptocurrency to transfer money to family or friends (7 percent). In addition, 63 percent of respondents admit that they would like to pay with digital coins in shops if such an option were available.
The security of cryptocoins is an important aspect for the Romanians. 31 percent of respondents think digital coins are a safe investment, 27 percent have chosen other variants, while 43 percent have doubts about what to answer.
According to the respondents, in order to gain their trust, issues of reducing the risk of money loss by preventing hacker attacks (45 percent), the existence of a trustworthy provider (35 percent), a low volatility of cryptocoins (34 percent) and a clear position of the government and financial institutions on their legality (21 percent).
Lack of information is another factor that prevents Romanians from buying cryptocoins. 38 percent of those who know what they say they know enough to sell them safely, 21 percent have opted for other variants, while 40 percent are unsure of the answer.
Respondents are usually educated about digital money in social media (56 percent), in specialized press and portals (38 percent). Family and friends are also a popular source of information on this topic (34 percent), while 23 percent mentioned social campaigns.
The research conducted in June 2018 by Norstat for Luno. Methodology: Individual online interviews in the Norstat panel (CAWI). Sample of 1026 people, Romanians, 18+. Demography: women – 50.3%, men 49.7%. Age groups from 18 to 54 years of age, internet users.