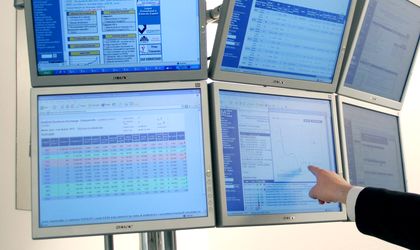 Shares in Apple, Bank of America, Intel, Coca-Cola and Visa are available for trading starting today on the Alternative Trading System (ATS) of the Bucharest Stock Exchange (BSE).
Tradeville, the brokerage house, will act as market marker. The trading block will be one share and the maximum price variation is +/- 25 percent against the reference price. The shares will be tradable between 4.30 PM  and 6.30 PM.
"By investing in these companies, the Romanians benefit from the most rigorous and regulated system in the world, through the listing standards of the New York stock exchange (NYSE) and the US securities and exchange commission (SEC)," said Mark Gitenstein, US Ambassador in Romania.
Mihaela Biciu, president of the administration board and general director of Tradeville, said that Google and Microsoft are the next companies that will be included in the ATS.
The Central Depositary registered this January, in the RoClear system, the US firms JPMorgan Chase, Visa, Apple, Microsoft, Google, Coca-Cola, Intel, McDonald's and Merck&Company, upon request from a brokerage house.
At present, Tradeville is market marker for shares of European firms Adidas, Deutsche Telekom, E.On, Christian Dior, Danone, Heineken, L'Oreal, Bauer and SAP.
Ovidiu Posirca