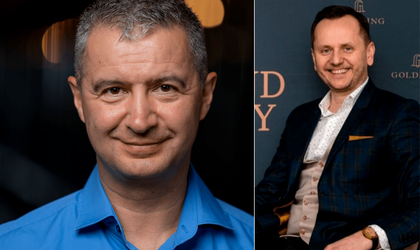 SeedBlink, a platform for co-investing in European tech startups, partnered with Goldring, one of the most active brokers in Romania in terms of listings on the Bucharest Stock Exchange, in order to develop financial investment services in Romania, diversify investment offerings and facilitate companies' access to capital.
The partnership aims to add more visibility within the Goldring investor community for the promising tech startups with ambitions for international expansion that raise funding rounds through SeedBlink,
The partnership will thus give companies access to a larger pool of potential investors and facilitate investors' access to a new asset class to build a diversified portfolio.
"We have seen a significant increase in recent years in the interest of small and medium-sized companies for capital market financing. We already have a partnership with the Bucharest Stock Exchange, and through the collaboration between Goldring and SeedBlink, we want to further contribute to developing the infrastructure for innovators. We see this partnership as beneficial for entrepreneurs in need of funding and investors who will have access to public offerings or private placements. We recognize Goldring's experience and reputation in the capital market and believe it complements our dynamic pipeline of technology companies with global ambitions very well," said Andrei Dudoiu, co-founder and managing partner of SeedBlink.
"Goldring supports investors and companies in Romania and opening up to different funding routes is a sign of the maturing ecosystem. We see SeedBlink as a major support for the growth of the Romanian IT/Tech sector. This partnership is aligned with our initiatives, such as Finants.ro where we match client requests with funding offers," said Virgil Zahan, Goldring's CEO.
Both companies are authorized by the Romanian Financial Supervisory Authority (Autoritatea de Supraveghere Financiară – ASF), SeedBlink as a crowdfunding platform service company and Goldring as a financial investment services company.
The partnership between SeedBlink and Goldring marks another important step towards the modernization and development of the Romanian capital market by making it easier for companies to access multiple funding sources and increasing the capital market's investor base.