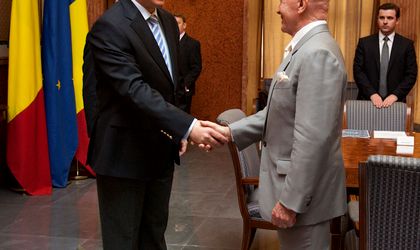 Romania's Prime Minister, Mihai-Razvan Ungureanu, met today with Mark Mobius, Executive Chairman of Templeton Emerging Markets Group, and Grzegorz Konieczny, Fund Manager of Property Fund (FP) to discuss the latest developments in state-owned enterprises (SOEs), where FP called for reform measures.
The listing of minority stakes in SOEs on the Bucharest Stock Exchange, the appointment of professional management in SOEs and the new corporate governance code recently approved for SOEs were the main topics raised during the discussion.
"This was a very productive meeting. We are very much encouraged by the Romanian Government's plans for privatization and we hope to see an unwavering commitment to the process which will be critical to bringing these plans to fruition," said Mobius. He adds the recently introduced Corporate Governance Code will make minority shareholders in SOEs more visible.
FP has minority stakes in the SOEs that will go on public offering this year so improving the management of these companies is critical. In fact, around 87 percent of FP's net asset value of EUR 3.7 billion is weighted in the oil&gas and power sectors. Top holdings include energy generators Hidroelectrica, Romgaz, Nuclearelectrica and Transgaz. All these SOEs are scheduled for privatizations on the BSE this year.
"The Fund welcomes the ongoing efforts made by the Romanian Government to list additional state-owned companies on the BVB and improve standards of corporate governance," said Konieczny. These are two very important factors that the Fund has been advocating for the last two years and we are pleased with the progress achieved so far," he added.
Ovidiu Posirca