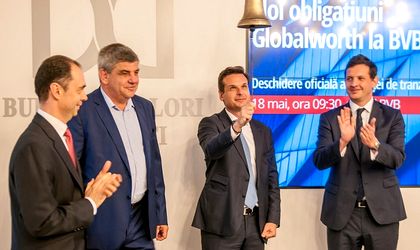 Globalworth Real Estate Investment Limited, one of the most important real estate investment companies in CEE, in partnership with BT Capital Partners, part of the Banca Transilvania Financial Group, are announcing their second issuance of corporate bonds on the Bucharest Stock Exchange (BVB), worth a total of EUR 550 million.
"Over time, Globalworth successfully completed a series of benchmark transactions, which have enabled us to become one of the most important investors on the office building markets in Romania and Poland. The issuance of the first set of company bonds on BVB last year was a milestone for us, and a record for the local market. Today we are announcing a new step in our development: the admission of a second set of corporate bonds. This follows our growth plans through which we aim to become the largest office building company in the entire region, and once again confirms our promise that we will continue to invest on the local market and offer the best product to our partners," said Dimitris Raptis, Deputy CEO and Chief Investment Officer at Globalworth.
The total value of the corporate bonds issued today is similar to the 2017 issuance – EUR 550 million, which will be invested in new projects.
"Records are set in order to be broken or matched. In this case, Globalworth matched the record it established last year on BVB: over half a billion euros in corporate bonds. It is the best example to encourage other companies to look more towards the capital market as a source of financing," said Adrian Tanase, CEO of BVB.