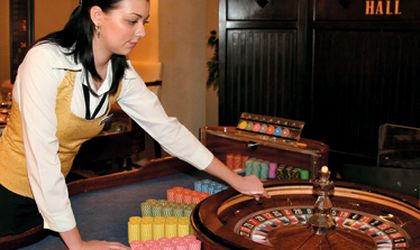 The number of local casinos peaked in 1996, when there were 17 in Bucharest and 20 in cities outside the capital, says Constantinescu. In time, many disappeared because the business is a tough one and there is not enough room for that many players, said the AOCR head.
The local playing field differs greatly from others in Europe. "Abroad, most casinos have gambling surfaces of 50 sqm, while in Romania the average is 20 sqm. Tourists do not come here to gamble because we do not offer the facilities they would get in other countries. Here, they are either not deductible or illegal," said the operator.
The local casino market is evaluated at about EUR 50 million annually, with each casino making a maximum of EUR 200,000 per month in profit, said Constantinescu. There is no talk of maybe boosting that figure this year. "No increase in profits is predicted for 2007. The tax burden on casinos went up in 2006 and is expected to increase further," said Michelle Cummins, general manager of Casino Bucharest.
Expansion plans are also on hold. "We have none – all investment and plans for the future are on hold," said Cummins. "In the uncertain legislative and political environment in Romania at this time it is impossible to make any predictions for 2007, except to say that opportunities will be lost and investment and development delayed whilst the uncertainty prevails," she added.
Among the problems local casinos have, Cummins cited "the uncertainty over the new gaming law project, which could lead to all current casinos going out of business, the punitive fiscal regime that does not understand or allow that casinos can suffer losses and the unrelated taxes randomly applied to casino gaming, with no thought given to the norms of application." On this latter issue, Cummins gave the example of the Cinema Fund and Historical Monuments Fund.
"Legal requirements that have proved inapplicable and which have failed abroad, are still required in Romania: for example, fiscal receipts for gaming purchases," the Casino Bucharest manager said.
As a consequence, in the past years, the Bucharest market has steadily declined.
"In 2006, 21 casinos were given the authorization to function, 11 of them located in Bucharest. In 2005, there were 22 licenses, 12 of which went to Bucharest casinos. In 2004, 25 casinos received the license to function. Fourteen were based in the capital," said Nicoleta Vaia, superior councilor with the Finance and Commerce Ministry.
The market will not evolve with European accession either.
"Everyone is waiting for the laws to be changed, which is why you will not see any major changes on the market. Everyone is on stand-by," said Constantinescu.
And he also means new entrants from abroad.
"The Romanian legislation is very bad and big players do not want to come. Casinos need an initial investment of about EUR 3 million. Under the current law, authorizations are only valid for one year, so players do not have the guarantee that they will get approvals the next year also and thus be able to cover their expenses," said the AOCR president.
In any other European country, authorizations are valid for at least three years, while in the United States they are permanent, he added.
The draft law has now been waiting more than two years to be passed, said the AOCR head, and negotiations are to be resumed on March 5.
The casinos would not be only ones to benefit from the law, said the manager. "If the law were passed in the form we are proposing, budget cash-ins would go up three or four times," said Constantinescu. "We hope that the law comes through in 2007, but anything is possible in Romania."
Aside from legislation-related problems, Romanian casinos have others things to worry about. Among them, Cummins cited the uncontrolled growth of electronic gaming, the increasingly attractive competition represented by casinos in neighboring countries and by online gaming, and the skills shortages as experienced casino croupiers take up positions abroad.
As for the clients, each big-league casino has an average of 250 customers a day, said Constantinescu, mentioning that the big league includes mainly the three Grand Casinos (two in Bucharest and another in Iasi), the Platinum Casino and Casa Vernescu.
"Smaller casinos have about 150-200 clients daily," he said. About half of the customers are Romanian and the other half are foreign, with EU visitors showing a significant increase over the past year, said Cummins.
As regards the biggest jackpots they have taken home, the largest win from a Grand Casino client was roughly EUR 456,000, while the biggest loss was EUR 288,000, said Constantinescu.
Ana-Maria David