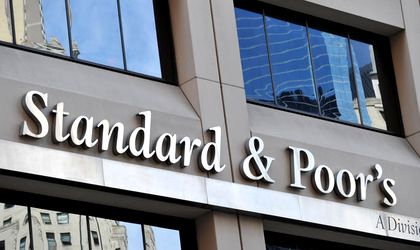 Rating agency Standard & Poor's has reconfirmed Romania's ratings for long- and short-term debt in foreign and local currency to BBB-/A-3 with a stable outlook, but warned that the repeated attempts by the government to intervene in the justice system would make economic policy increasingly unpredictable and have a negative effect on the confidence of foreign investors.
Romania's rating reconfirmation is supported by the moderate public debt and foreign debt levels compared to most EU states, as well as by the country's solid economic growth perspectives and the stability of its national currency compared to neighbouring countries.
S&P predicts a real GDP growth of 4.3 percent this year, as consumption and foreign demand will be moderate, and an average growth of 3.5 percent for the next three years.
However, the agency also writes that the GDP per capita was a little over USD 10,000, the second lowest in the EU. The low income and welfare levels limit ratings, and so does the budget deficit, the low efficiency of institutions and government and the political uncertainty.
According to S&P, the presence of politics in institutions erodes the checks and balances systems, as short-term policies and political instability overshadow economic development.
Furthermore, political instability and the repeated attempts by the government to intervene in the justice system can erode the independence of important institutions, create public turmoil and make economic policy increasingly unpredictable, as well as have a negative effect on foreign investors, the agency writes.
S&P also notes that the consumption-based economic policy supports income convergence, but that the lack of structural reform initiatives in infrastructure and education could slow down the long-term development trend.
Finance minister Eugen Teodorovici had a positive reaction to S&P's announcement: "I see the fact that a second agency reconfirms Romania's rating and stable outlook as a good sign. It is a confirmation of the fact that we are on the right track with the measures adopted by the government and that our country remains attractive for foreign investors," he said.
The agency writes that the main factors that could improve Romania's country rating and would bring more stable and predictable economic growth as well as a better management of public finances include: strengthening the governance framework, having a more solid trajectory in the budgetary consolidation, and firmly placing net public debt on a decreasing path.