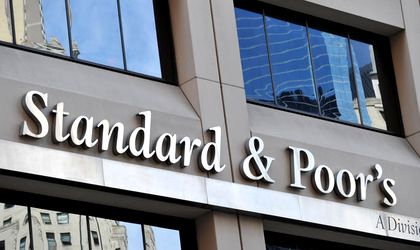 Rating agency Standard & Poor's estimates that Romania's budget deficit will reach 3.3 percent in 2019 and 3.5 percent in 2020, breaking the country's commitment to maintain its deficit below 3 percent of GDP as a result of high public spending, predominantly on salaries and pensions.
"These levels will be the result of lower economic growth rates and higher government spending as future elections are approaching – presidential in 2019 and parliamentary in 2020. The government's goal to drastically cut the difference between owed VAT and collected VAT is very ambitious in this context, as Romania has the largest such difference among all EU states. At the same time, a new cut to investment spending could be a challenge, considering Romania's acute infrastructure needs," the S&P agency writes.
For 2021 and 2022, the budget deficit is estimated at 3.4 and 3.3 percent of GDP, respectively. Exceeding the 3 percent target could lead to an excessive deficit procedure by the European Commission, which means stricter controls of spending.
The report notes that the deficit remained under 3 percent in 2018 due to solid performance of budget revenues and a low allocation for investments. However, rapid salary increases in the public sector have made the public spending structure be oriented towards inflexible and salary-related social spending, as well as a move away from investments.
"We believe that prioritising consumption spending ahead of investment spending is a negative choice for Romania's long-term competitiveness and growth. Salaries and social insurance contributions are a rigid and inflexible part of government spending, taking up about 60 percent of the total. We believe that this leaves the government little room to make capital spending, which are expected to significantly increase according to the government's 2019 budget draft. The country's large fiscal deficit in the context of a very rapid economic growth highlights its vulnerability to potential external shocks and a significant slowdown of economic growth. The government's pro-cyclical fiscal policy erodes the hard-earned fiscal revenues of the post-crisis years," the S&P report reads.
Romania's economic growth is estimated at 3.5 percent this year, 3.4 percent next year, 3.2 percent in 2021 and 2022. Nominal GDP is expected to reach RON 1,015 billion in 2019, below the government's estimation of RON 1,022.5 billion, which was used to build the budget law.
Budget revenues are expected to remain around 30 percent of GDP, as they did last year, reaching a 30.2 percent level by 2022. Budget spending are expected to stabilise around 33 percent of GDP over the next four years.
The annual inflation rate is estimated at 3.5 percent on average throughout this year, a decrease compared to last year, mainly due to a global decrease in energy prices.